Victoria Norris excelling at kicker for Skyline football plus Week 3 leaders, notes, rankings
Posted on Tue, Sep 11, 2012 : 5:59 a.m.
Daniel Brenner | AnnArbor.com

When Skyline High School football coach Lee Arthur saw a non-football playing student kick a 42-yard field goal - without a tee - during last year's homecoming festivities, he was impressed.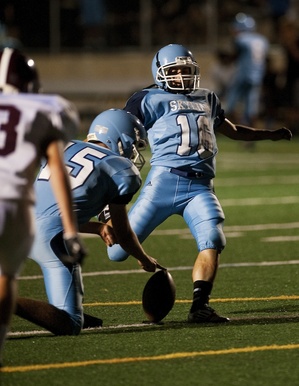 Daniel Brenner | AnnArbor.com
When that same student followed the 42-yard kick with a 45-yarder, Arthur asked that student -
Tori Norris
- to attend tryouts the next year.
It didn't matter to Arthur that Tori is short for Victoria, as long as Victoria wasn't short on her extra point attempts.
"We watched her kick a 45 (yard field goal) so it was like a no-brainer, we wanted to give her the opportunity. I asked her to try out and she accepted," Arthur said. "She accepted full responsibility for the kicking duties and she's been doing a great job."
Norris came out for the team for her senior year and is now Skyline's starting kicker. Norris has yet to attempt a field goal, but through three games for the Eagles (1-2, 0-1 SEC White) Norris has made 9-of-11 extra point attempts and in Friday's 51-29 loss to Lincoln, even assisted on a tackle on what looked to be a sure touchdown on a kick return.
FOOTBALL TOP PERFORMERS, SEPT. 7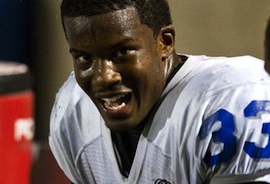 RECEIVING YARDS
195 - Tyree Waller, Lincoln (7 receptions, 3 TD)
152 - Devere Pipkins, Willow Run (6 receptions, 1 TD)
126 - Caleb Luckett, Saline (5 receptions, 1 TD)
100 - Percell Franklin, Skyline (4 receptions, 1 TD)
99 - Dan Hugan, Huron (10 receptions, 1 TD)
PASSING YARDS
338 - Marquis Smith, Willow Run (12 of 21, 1 TD, 0 INT)
289 - Tyler Palka, Saline (13 of 20, 2 TD, 0 INT)
217 - Javin Kilgo, Lincoln (10 of 17, 3 TD, 0 INT)
178 - Askaree Crawford, Skyline (11 of 21, 1 TD, 1 INT)
132 - Josh Jackson, Huron (14 of 25, 1 TD, 2 INT)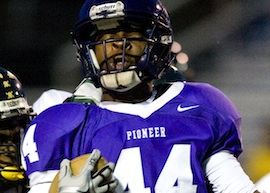 RUSHING YARDS
151 - Marquis Smith, Willow Run (6 carries, 1 TD)
132 - Arthur Dukes, Milan (13 carries, 1 TD)
117 - Ashton Hundley, Gabriel Richard (11 carries, 3 TD)
107 - Marquise Thomas, Pioneer (9 carries, 2 TD)
105 - Somto Igwegbe, Huron (14 carries, 0 TD)
*Ypsilanti stats not available.
Norris is listed as a linebacker on Skyline's official program.
All 5-foot-5, 130 lbs. of her.
That Norris wouldn't shy from contact should come as no surprise to anyone who has seen her play soccer. Norris is the starting goalkeeper for Skyline's varsity team and plays club ball for the Michigan Hawks out of Livonia, traditionally one of the best teams in the state and competitive nationally.
"The guys are a lot bigger and faster and stronger, but being a goalkeeper, I'm used to getting hit," Norris said of the occasional contact she endures.
Arthur took it a step further.
"I have full faith in her. You give her another year in high school, I think she could be a good linebacker," Arthur said. "The young lady is a great competitor and a great student-athlete."
Soccer is still Norris top athletic priority. She misses the occasional football practice for a game or has to leave early to get to a training session, but she said nothing compares to the rush of being out on the football field.
"The intensity of it all and the adrenaline that's going through everything. With the hype of the game it's just fun," Norris said.
Quality over quantity
Several Washtenaw County running backs proved it's not how many carries you get, but what you do with those carries on Friday.
Quality over quantity that is.
Pioneer running back Zak Davis for instance rushed for three touchdowns on just ten carries and gained 74 rushing yards. Normally a 30 percent touchdown conversion rate and a 7.4 yards per carry average would hold up as the most efficient and effective night in the area, but not this week.
Four running backs in the area rushed for at least 100 yards and had more than 10 yards per attempt. They were Willow Run's Marquis Smith (151 yards/25.2 ypa), Milan's Arthur Dukes (132/10.2), Father Gabriel Richard's Ashton Hundley (117/10.6) and Davis' Pioneer teammate Marquise Thomas (107/11.9).
The most efficient Friday night in the area was Gabriel Richard's DJ Newlin who rushed three times for 82 yards for a 27.3 average and scored on one of those carries for a 33.3 percent conversion rate.
Saline's Kevin Gross wasn't too shabby himself, with four touchdowns on just 13 carries for a 30.8 percent conversion rate. He also had a 6.4 yard average and had four receptions for 91 yards.
Great Whites
After Lincoln's 51-29 win over Skyline and Tecumseh's 41-14 win over Huron on Friday, both teams improved to 3-0 on the season. The two teams play each other this Friday in an early season SEC White showdown.
The last time Lincoln was 3-0: 1998. The last time Tecumseh was 3-0: 2001. The last time both teams were 3-0: Never.

Washtenaw County Power Rankings:
This week's Washtenaw County power ranking coincide with the release of the Associated Press's first set of rankings. The only Washtenaw County teams to receive votes from the AP - Saline and Pioneer - happen to be the top two teams in AnnArbor.com's rankings.
As luck should have it the two teams face each other this week at Saline High School in what is currently leading the AnnArbor.com Game of the Week voting (vote below). The poll is still open until Tuesday at 6 p.m.,
Rank, School (Record), Latest result (last week's rank)
Saline (3-0), def. Adrian, 58-20 (1)
Pioneer (0-2), def. Dexter, 69-0 (2)
Chelsea (0-3), lost to Temperance Bedford, 53-20 (3)
Lincoln (3-0), def. Skyline, 51-29 (4)
Milan (3-0), def. New Boston Huron, 35-8 (6)
Gabriel Richard (3-0), def. Tawas Area, 53-0 (7)
Skyline (1-2), lost to Lincoln, 51-29 (5)
Huron (0-3), lost to Tecumseh, 41-14 (9)
Manchester (2-1), def. Vandercook Lake, 28-0 (10)
Willow Run (2-1), def. Detroit Allen Academy, 29-16 (11)
Dexter (0-3), lost to Pioneer, 69-0 (8)
Whitmore Lake (1-2), def. Morenci, 16-0 (13)
Ypsilanti (0-3), lost to Monroe, 47-6 (12)
Game of the Week:
Voting for AnnArbor.com's "Game of the Week" is open until Tuesday at 6 p.m. You are not limited to one vote, so vote early and vote often.
AnnArbor.com will give the Game of the Week winner its Super Bowl treatment, which will include two reporters covering the game, a live chat that you can follow from your iPhone or Android device, and a photo gallery as well.