The story behind Pioneer's football MVP trophy
Posted on Sun, Dec 26, 2010 : 5:59 a.m.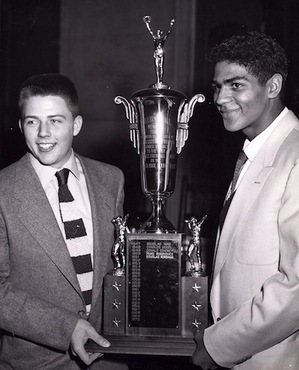 Photo courtesy of Charlie Hoffman

The William V. Ball Memorial Trophy stands three-feet high and is a relic of a time long passed. With a large wooden base, it's flanked by miniature bronze football players and topped by a large, handled cup.

The trophy is easily 50 pounds, and is spectacular in its massiveness.

On display at Knight's Restaurant in Ann Arbor, the trophy has a new name engraved on its front-side plaque every year in honor of the annual recipient of the Pioneer High School football team's Most Valuable Player award. Senior Reilly Quigley's name was added this year.

The stories the men on the trophy could tell would include tales of Division I college football and even NFL success. The story of how the trophy itself came to be, however, is one of friendship, war, tragedy and love.

A native of Ann Arbor, William "Bud" Ball was a motor machinist's mate on the USS Garfield Thomas during World War II. The Garfield Thomas was a Destroyer Escort, which was specially designed with shallow hulls in order to avoid German torpedoes. The top-heavy anatomy of the ship made it very tipsy. The boats' crews were known to refer to the vessels as "sheet metal canoes." In June of 1945, the Garfield Thomas was headed toward the Panama Canal when Ball decided to join his best friend, Charlie Hoffman, whom he had met in the Navy, during a break. Hoffman was a gunner's mate, positioned atop the ship, so Ball, who was stuck in the machine rooms most of the day, gladly joined him atop the ship when he had the opportunity. "I was up there putzing around with him and he says, 'I'm gonna go down and get a Coke,' and he went down portside," Hoffman recalls. Ball never returned. The sheet metal canoe took to rough waters and when Ball went to grab a safety line on the side of the ship, the turnbuckle securing it to the side broke off. "I hear 'man overboard' and everyone went topside, looked around to see him and I didn't. And he was the type of fella, something like that, he would have been there," Hoffman, 86, says, choking up at the memory. "Come to find out it was him." Ball was lost at sea. The Ann Arbor High School graduate, who had aspirations of playing college football as a placekicker once he returned home, never got the chance. When the ship finally returned to harbor months later, it was Hoffman who was given the duty of returning Ball's personal belongings to his family in Ann Arbor. Hoffman had also collected $250 from the ship's crew to set up a memorial, as was done for all crew members who didn't make it home.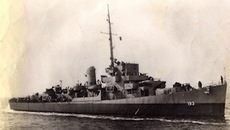 Hoffman, a native of Brooklyn, N.Y., had visited Ann Arbor and met Ball's family prior to the war. He had even written letters to William's sister, Marge, while at sea. Marge met Charlie at the airport and took him to the Ball home, where he met William's parents in a tear-filled reunion. William's mother, Marie, opened her heart and home to Charlie, inviting him to stay "as long as I wanted," Hoffman recalls. What she wasn't interested in, however, was the memorial he had been sent to set up. Not one she could see, anyway. The news of her son's death had been too much to bear for Marie, who had lost two of her younger brothers during the war. Because she was the oldest of 14 siblings and her parents were deceased, it was Marie who received the "We regret to inform you …" telegrams. When that third telegram came with news that her youngest child and only son had not only died, but that his body had not been recovered, it was too much. The only thing harder for Marie than burying her brothers was not being able to bury her son. Besides his family, the thing William Ball spoke of most affectionately was his time as a three-sport (football, basketball and baseball) varsity athlete at Ann Arbor High, particularly his time on the gridiron. Hoffman approached then-athletic director Bob Hollway and head football coach Dobbie Drake about setting up a memorial in William's honor. The two both overwhelmingly agreed.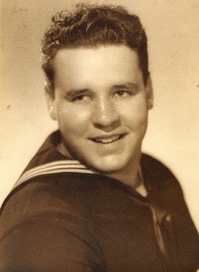 Charlie's next stop was Moe's Sport Shop on North University. He put down the entire $250 - which could have been a down-payment on a house at that time - and asked for the biggest, most extravagant trophy they had. He got exactly that. William V. Ball was the first name inscribed on the trophy, which has been presented to the school's MVP ever since, continuing when the school changed names to Pioneer. The story didn't end there. On Hoffman's goodwill mission to Ann Arbor, he had fallen in love with the town his friend had always spoke so highly of. The trees above the city streets amazed and mystified Hoffman, who grew up surrounded by concrete and high-rise apartments. A huge sports junkie, he remembers thinking "how do they play sports in the streets here?" Well…"they" didn't. They play in the many city parks, which Hoffman also loved about Ann Arbor. But it wasn't just the city that Charlie had fallen in love with. His best friend's sister, Marge, had grown "smitten with me," as Charlie recalls, and the feeling was mutual. There was no way Hoffman was going back to Brooklyn. Marge and Charlie were married in 1947, and though Marge died in 1982, Charlie still wears his wedding band and speaks of her kindness when he first came to Ann Arbor as if it were yesterday. Marge and Charlie raised their family in Ann Arbor and had two sons play on three conference championship teams in the '60s and '70s. Neither had their name engraved on the trophy bearing their uncle's name, but both played on the offensive line, the same position William had.