Saline's Karla Gross and Shannon Fraser are Washtenaw County Girls Golf Co-Players of the Year
Posted on Thu, Nov 18, 2010 : 5:59 a.m.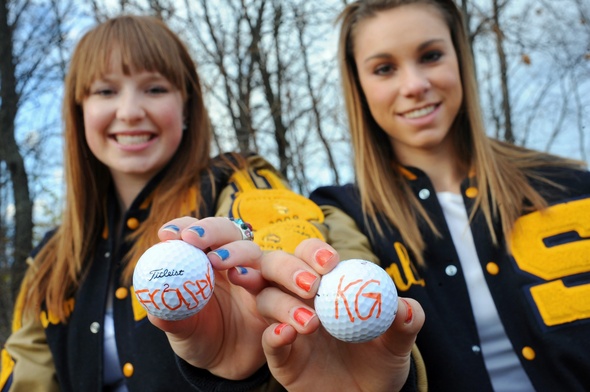 Melanie Maxwell | AnnArbor.com
After being the low scorer for the Saline girls golf team in the 2009 season, and being a first team Division 1 All-State selection, Hornets coach Betsy French expected Karla Gross to be her team's clear No. 1 in 2010.
What she didn't count on was the vast improvement of senior Shannon Fraser.
The two became so indistinguishable through the course of the season that it became a joke for the Saline team.
"We called it the curse of number one," said French, whose job it was to decide before each event who to list as the Hornets' No. 1 player. "I would put one of them No. 1 and the other No. 2, and the No. 2 would shoot lower. So I'd switch them, and then the other girl would shoot lower. So they joked that I should put them both No. 2." Gross shot the low score for the Hornets nine times this season and Fraser six. Both were named to this year's Division 1 All-State team.
When it came time to vote for a team MVP, it was split. So the two shared the honor. And once again, the ballots are split. Fraser and Gross have been chosen as AnnArbor.com's Co-Players of the Year for Washtenaw County. As the teammates went back and forth for low scores throughout the season, they were always supportive of one another, each helping the other improve. "It's a great thing to see as a coach," French said. "I call it iron sharpening iron — one wanting to do well and the other wanting to keep up. I think they brought out the best in one another." Both Gross and Fraser thought their friendship contributed to their success. "She's one of my best friends," Fraser said of Gross. "I love her to death, and I love playing with her. I never had that feeling that I really needed to beat her. We're constantly trying to push each other and help each other." Gross echoed those sentiments. "We're really good friends, so there's always positive energy there," Gross said. "We have signals on the course, we know when one is playing badly and we try to cheer each other up." When it came time for the Hornets to play for the state championship, there wasn't much cheering up needed. Gross shot a 78 on the first day of the state tournament and a 79 on the second day, which made her the seventh-best individual at the tournament. In 2009, Fraser had a bad first day at the state tournament, shooting a 99 — the worst round she had had since her freshman year. She had no such trouble in 2010, shooting an 80 on the first day. She had a rough start to day two, carding a 45 on the front nine, but rebounded with a 37 on the back and finished one stroke out of the top 10. Because Gross came into the 2010 season with an All-State selection already under her belt, French expected low scores from her. Fraser's immense improvement was a pleasant surprise. "Every other tournament (Fraser) was our low player, and that's a big reason why we had the successful season we did," French said. "We knew Karla was going to be strong, but I didn't think Shannon would improve as much as she did." While Gross will help Saline defend its title next year, Fraser will move on to the college game, having accomplished a personal goal of earning a scholarship. The Saline senior is weighing offers from Grand Valley State, Ferris State, and Queen's University in Charlotte, N.C.