Prep Roundup:

Saline takes seventh at state finals, plus more golf and soccer results

Posted on Sat, Oct 20, 2012 : 8:40 p.m.
Washtenaw County Scoreboard: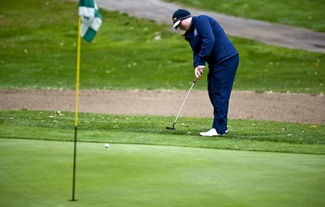 Joseph Tobianski | AnnArbor.com
Girls Golf State Finals
Saline's Emily White (81-76-157) finished nine strokes behind Division 1 champion Plymouth's Kelsey Murphy (73-75-148) as the Hornets (360-348-708) took 7th place overall. Plymouth was the overall champion 331-328-659.
Pioneer was paced by Sloane Supica, who shot an 80-89-169. The Pioneers finished with a team total 348-363-711, good enough for 9th place.
Huron's sole representative, Madison Smith, shot a 82-84-166 over the weekend.
Dexter shot consistently, 395-395-790, but finished 124 strokes behind champion Muskegon Mona Shores. Mary So was the top shooter for the Dreads shooting a 99-88-187 for the weekend.
Chelsea finished 9th in the Division 3 final, shooting a team total 393- 375-768. Gabby Triveline (87-86-173) led the Bulldogs, who finished 58 shots behind champion Forest Hills Eastern (367-343-710).
Greenhills finished in 6th place, shooting a team score of 413-412-825, but still finished 140 shots behind champion Lansing Catholic.
Annie Aldrich paced the Gryphons with a 89-88-177 for the weekend. Gabriel Richard's lone representative, Samantha Marsh, shot 95-91-186
Boys Soccer Districts
Division 1
Skyline 3, Pioneer 2
Story | Boxscore
Skyline (15-3-3) was able to stave off a second-half comeback by Pioneer to win the district title. Skyline scored two first-half goals and added one in the second half to extend the lead.
Pioneer's Cal Kirchen scored two second-half goals to bring the Pioneers to within one.
Division 2
Dexter 3, South Lyon East 1
Story | Boxscore
Max Amann led Dexter, scoring twice and adding one assist. Bobby Toth had one goal and Nils Valdmanis had one assist in contribution.
Goalkeeper Rhys Moller made seven saves for Dexter.
"In the first half both teams had good possession and good opportunities," Dexter coach Scott Forrester said. "We had a defensive breakdown on our side when our defense tried to tackle the ball away, and South Lyon lofted a pass to an open man and capitalized on it."
Division 4
Greenhills 1, Newport Lutheran South 0
Story | Boxscore
Greenhills won the district title with a 1-0 victory over Newport Lutheran South. Payam Dehkhodania headed the ball off a cross into the box during the first half and the Gryphon defense held the shut out.
"We were able to put a lot of pressure on them," Greenhills coach Lucian Popescu said. "Because we were putting so much pressure on them and possessing the ball so well, we were able to keep them from developing many scoring chances."