Saline, Chelsea baseball teams play quarterfinals Tuesday at U-M's Ray Fisher Stadium
Posted on Mon, Jun 11, 2012 : 7:48 p.m.
Two Washtenaw County high school baseball teams remain alive in the MHSAA postseason.
Both play Tuesday, right here in Washtenaw County.
Chelsea faces St. Joseph at 1 p.m. in a Division 2 quarterfinal, followed by a Division 1 matchup between Saline and Livonia Stevenson at the University of Michigan's Ray Fisher Stadium.
Tickets are $5 and available at the gate.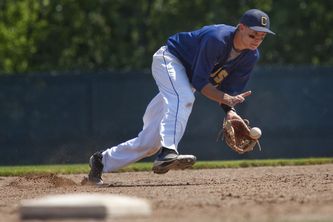 Jeffrey Smith | AnnArbor.com
At stake for the two Southeastern Conference teams is a trip to Battle Creek for this weekend's state semifinals and finals. For Saline, it would be the fourth trip in five years for the 2008, 2009 and 2010 state runners-up. Chelsea, making its first quarterfinal appearance since 2007, last played in Battle Creek in 2006.
Saline finds itself in a mix with no dominant team left in the Division 1 playoffs. No. 8 Hudsonville is the only team ranked in the final coaches poll of the season still alive in the tournament. Livonia Stevenson (25-13) eliminated No. 10 Detroit Western International in a regional semifinal.
St. Joseph (30-9) upset Richland Gull Lake, the top-ranked team in Division 2, in a regional semifinal. No. 2 Grand Rapids Christian, No. 4 St. Clair and No. 5 Bay City John Glenn are among the eight Division 2 quarterfinal teams.
Saline and Chelsea have taken drastically different paths to this point in the tournament.
Saline, which got a no-hitter from senior pitcher Justin Goike in its regional championship game, has outscored its four postseason opponents by a score of 46-3.
Chelsea, meanwhile, won its first three playoff games by a single run -- including an extra-inning win over No. 9-ranked Tecumseh -- before beating Trenton 12-6 in a regional final.