Pioneer point guard Jimmy Holman lands at Case Western
Posted on Tue, May 29, 2012 : 4:35 p.m.
It took a little longer than expected, but Pioneer High School boys basketball standout Jimmy Holman committed last week to continue his basketball career at Case Western Reserve University in Cleveland.
"I definitely felt wanted by the coaches. It's a place I can contribute early on," said Holman, adding that academics played a big role in his decision. "It doesn't get a lot better than Case Western academically."
Holman was a three-year starter at Pioneer after making many contributions as a freshman on a senior-laden team. As a senior this past season, Holman averaged 12 points and 6.5 assists per game. He was also a member of the Class A All-Washtenaw County First Team.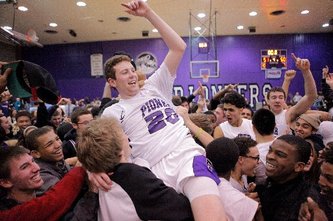 Chris Asadian | AnnArbor.com
Case Western is a Division III program that finished 10-15 last season, but will return nine seniors. Holman isn't worried about making an impact, having faced a similar situation at Pioneer.
"You always want to go in and make a difference and help make a run at the tournament," Holman said.
Pioneer coach Rex Stanczak said Holman was the epitome of what he asks from his players.
"Despite his unassuming stature, Jimmy is one of the toughest kids I've had the pleasure to coach. I'm not sure I've ever had a player who played through more injuries and pain than Jimmy has over his three years on the varsity," Stanczak said. "He is truly the whole package in terms of what I want a Pioneer basketball player to stand for."
Although his sights are set on the future, Holman said his time at Pioneer will never be forgotten.
"I miss it so much already. Coach Stanczak was the reason why I wanted to go to Pioneer. We had the best coaching staff in the state," he said. "I learned a lot from my coaches and I was always had great teammates to play with. I couldn't have asked for a better situation for me as a player."