high school football:

Pioneer dominates crosstown rival Skyline in 50-0 blowout

Posted on Fri, Sep 21, 2012 : 10:47 p.m.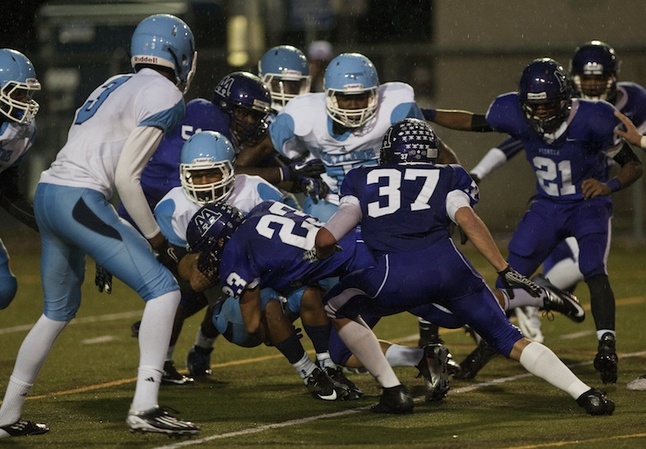 Daniel Brenner | AnnArbor.com
In the first two installments of the crosstown rivalry between the Pioneer and Skyline high school football teams, both teams combined to score more than 100 points in each game.
Had it not been for a running clock on Friday night, that pattern may have continued without a necessary contribution from Skyline.
Pioneer defeated Skyline 50-0 at Hollway Field in a game that saw a running clock for the entire second half.
After last week's 7-6 win over Saline, Pioneer linebacker Bradley Koenig made an obvious point in poetic fashion, stating, "if they can't score, then we can't lose." Through three games of Southeastern Conference play, the Pioneer defense has yet to allow a touchdown.
"They" aren't scoring and the Pioneers aren't losing.
More coverage: Boxscore | Photo Gallery | Friday football roundup
"It feels great especially going against Skyline who's our crosstown rival, that makes it even better," said Koenig, who had 2.5 sacks Friday. Pioneer sacked Skyline quarterback Askaree Crawford a total of 11 times and tackled him for a loss on called running plays several more times.
Not only did the Pioneer defense not surrender a point on Friday, it technically didn't surrender a single yard, as Skyline finished the night with 54 yards lost on offense.
It wasn't just the starters taking pride in keeping the scoreboard clean. In the fourth quarter with Skyline deep in Pioneer territory for the only time all night, Crawford threw a jump ball to 6-foot-8 receiver Tristan Wilson and backup cornerback Liam Quigley broke up the pass. Quigley is generously listed at 5-8.
The drive ended in a blocked field goal attempt.
"(Wilson) had a foot-and-a-half on him, but Quigley's a tough, tough kid," said Pioneer coach Paul Test.
Test was pleased to see his reserves preserve the shutout.
"That was exciting. We tell (second string players) just because you get in late, doesn't matter what the score is, go out and perform. You've worked hard all week, get a chance to show what you can do," Test said.
Pioneer needed just six offensive plays and less than three minutes of possession in the first quarter to put Skyline to bed.
Three of those plays went for touchdowns and the Pioneers (3-2, 3-0 SEC Red) added a defensive score after a forced fumble in the end zone to go up 28-0 before the second quarter even began.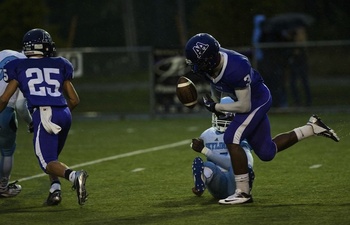 Daniel Brenner | AnnArbor.com
The second quarter wasn't much better for the Eagles (1-4, 0-3 SEC Red) as the Pioneer defensive line absolutely dominated, tackling Skyline ball carriers behind the line of scrimmage 19 times. Crawford took the worst of it, getting hit for loss 18 times in the first half alone as Skyline trailed 37-0 at the break.
Pioneer running back Marquis Thomas led the way offensively with 154 yards and four touchdowns on 11 carries. Thomas only carried the ball twice in the first quarter and scored both times. The latter of the two scores came on a spectacular 33-yard run in which Thomas broke several tackles, spun out of some more and even had the ball knocked out of his hands. Thomas snagged the ball out of the air in stride and finished in the end zone.
Zak Davis rushed for 137 yard and a score on 13 carries for the Pioneers.