Pioneer holds onto top boys spot, Huron girls move to No. 1 in AnnArbor.com power rankings
Posted on Mon, Feb 11, 2013 : 5:30 a.m.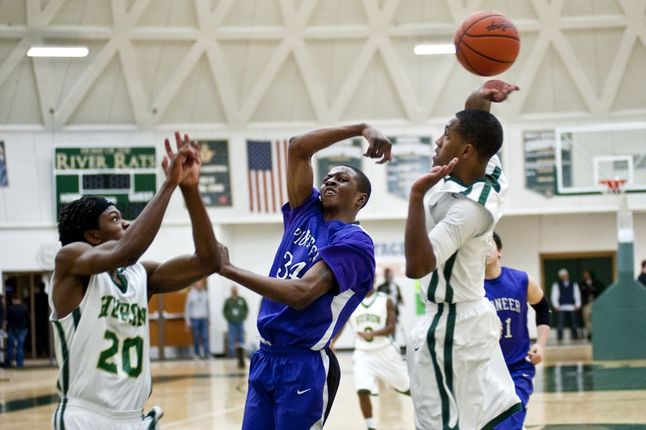 Joseph Tobianski | AnnArbor.com
Our top teams are beating up on each other late in the season, and there's no clear-cut No. 1 in the AnnArbor.com Washtenaw County Boys Basketball Power Rankings.
Pioneer entered last week as the top-ranked team, and backed up that ranking with a Tuesday win at No. 2 Ypsilanti. But the Pioneers finished their week with a road loss to No. 4 Huron, splitting the season series between the two city rivals.
Ypsilanti finished the week with a big win against Lincoln, and the River Rats went 2-0 on the week with a Tuesday win over Dexter.
But the Pioneers stay in first-place despite its loss, considering its win came against the higher-ranked team, both of its games were on the road, and its Friday loss featured limited action from an ailing Jibreel Hussein, the team's leading scorer.
Huron has been bolstered by the return of point guard Antonio Henry, but still has three losses in its last seven games, keeping it from taking over the top spot.
Washtenaw County Boys Basketball Power Rankings
Rank, School (Record), Latest Result (last week's ranking)
Pioneer (11-4), lost to Huron, 57-49 Friday (1)
Huron (8-5), def. Pioneer, 57-49 Friday (4)
Ypsilanti (11-4), def. Lincoln, 62-30 Friday (2)
Milan (14-1), def. Riverview, 69-31 Friday (3)
Skyline (7-7), def. Saline, 39-34 Friday (5)
Saline (8-7), lost to Skyline, 39-34 Friday (6)
Lincoln (6-9), lost to Ypsilanti, 62-30 Friday (7)
Greenhills (12-1), def. Taylor Baptist Park, 62-57 Tuesday (8)
Dexter (7-7), def. Chelsea, 41-37 Friday (9)
Father Gabriel Richard (6-9), lost to Detroit Loyola, 73-71 Friday (10)
Willow Run (6-8), def. Romulus Summit Academy, 61-59 Tuesday (12)
Chelsea (3-11), lost to Dexter, 41-37 Friday (11)
Arbor Prep (6-7), idle (13)
Whitmore Lake (4-11), lost to Ottawa Lake-Whiteford, 61-44 Friday (14)
Rudolf Steiner (9-7), lost to Grass Lake, 64-40, Tuesday (15)
Washtenaw Christian (9-5) lost to Livingston Christian, 55-30 Friday (16)
Manchester (1-15), lost to Napoleon, 100-83 Friday (17)
Calvary Christian (1-14), lost to Newport Lutheran South, 44-41 Friday (18)
Record not available: Eastern Washtenaw Multicultural, Central Academy
Huron girls move up to top spot
Huron has won eight straight games since debuting in our power rankings at No. 7 on Jan. 7. And with a 12-point win over previous No. 1 Dexter on Tuesday, the River Rats ascend to the top spot in this week's girls rankings.
Dexter moves down to No. 2, one spot ahead of Manchester.
Our biggest rise this week comes from Ypsilanti, which moves back into the top five and seems to be back on track after losing three straight in mid-January. Of the Phoenix's four losses to Washtenaw County teams, three were avenged in its last four games: Tecumseh (55-28), Chelsea (46-40) and Lincoln (53-45).
Washtenaw County Girls Basketball Power Rankings
Rank, School (Record), Latest Result (last week's ranking)
Huron (11-4), def. Pioneer, 36-29 Friday (3)
Dexter (15-2), def. Chelsea, 32-25 Friday (1)
Manchester (15-1), def. Hanover Horton, 67-32 Thursday (2)
Ypsilanti (11-5), def. Lincoln, 53-45 Friday (7)
Chelsea (10-6), lost to Dexter, 32-25 Friday (4)
Lincoln (11-6), lost to Ypsilanti, 53-45 Friday (5)
Saline (10-7), lost to Skyline, 35-34 Friday (6)
Pioneer (8-8), lost to Huron, 36-29 Friday (8)
Arbor Prep (13-4), def. Plymouth Christian, 65-44 Saturday (9)
Skyline (7-10), def. Saline, 35-34 Friday (10)
Rudolf Steiner (9-2), idle (11)
Greenhills (9-6), def. Taylor Baptist Park, 50-42 Friday (12)
Willow Run (6-8), lost to Romulus Summit Academy, 29-23 Tuesday (13)
Washtenaw Christian (8-6), def. Livingston Christian, 34-31 Friday (14)
Father Gabriel Richard (2-14) lost to Macomb Lutheran North, 42-33 Tuesday (15)
Whitmore Lake (2-14), lost to Ottawa Lake Whiteford, 55-37 Friday (17)
Milan (2-15), lost to Grosse Ile, 46-5 Thursday (16)
Record not available: Central Academy, Calvary Christian