Pioneer High School hires Paul Test as head football coach
Posted on Thu, Mar 24, 2011 : 3:09 p.m.
Pioneer High School will introduce Paul Test as its new varsity football coach to boosters and alumni on Friday. For those who follow the program, Test will need no introduction.
Test was head coach at Pioneer from 1991-94 and has spent 20 of his 31 years as a coach at Pioneer and with other area programs. He spent last year as the defensive coordinator at Skyline High School and coached in the Huron High School program for eight years.
Test, 56, has been an educator in Ann Arbor for as long as he has been a coach and for the past 10 years has been the physical education teacher at Thurston Elementary School.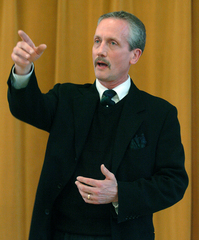 File photo
"Paul, I think, is a great hire from the perspective that he is an educator, knows the progressions of teaching and knows how to build relationships," said Pioneer athletic director Lorin Cartwright. "He's a very impressive man from the perspective that he doesn't put kids down, he builds them up, and through his career has a long track record of developing high character individuals both on and off the field."
Test replaces Jeremy Gold, who recently accepted the head coach position at Morgan Park High School in Chicago. Gold was 23-17 in four seasons at Pioneer and made three consecutive Division 1 state playoff appearances from 2008-10. Test was the freshman coach under Gold from 2007-09, compiling a 27-0 record.
"I've been a Pioneer guy for a long time," Test said. "The most exciting thing to me is the relationships I established in ninth grade that I'll be able to move forward with. Reinforce the importance of academics, try and teach them about life and help prepare them for life on and off the football field."
Test's resume includes Class A state championships in 1984 and 1987 as the defensive coordinator under Chuck Lori at Pioneer. Test takes particular pride in the second title because his defense shut out Detroit Catholic Central in the championship game. Pioneer won 3-0 with, in Test's words, "a home run in the bottom of the ninth." Pioneer allowed 7.9 points per game that season with four shutouts.
As a player, Test was a member of Dearborn Divine Child's 1973 Class B state championship team and the University of Pittsburgh's 1976 national championship squad.
In his first stint as Pioneer head coach, Test's teams were 22-16. He stepped down as head following the 1994 season in order to show his wife, Pam, that he loved her more than the game of football.
"After 15 years, I was a little worn and my wife one day said, 'You love football more than me,' so I spent the next two years letting her know she came first," Test said.
He laughingly recalls an incident that was no laughing matter at the time. One day Pam was talking to him about a major surgery her mother was due to undergo and he responded with, 'You know what? I think we can beat Ypsi this week.'
That didn't go over so hot.
After two years of "re-courting" his wife and dedicating more of his time to his two teenage daughters, Test said he emerged as a better husband and father. But after two years away from football, Pam recognized that not only was she Paul's first love, but that he needed his second love. Test returned to coaching at Huron in 1997.
In his first game in his second stint as head coach of the Pioneers, Test will stand on the sideline opposite an old friend, Paul Verska. The former Huron coach now coaches Warren De La Salle.
"That'll be fun," Test said. "There's a lot of healthy respect on both sides."