Pioneer boys, Huron girls stay atop AnnArbor.com basketball power rankings
Posted on Mon, Feb 18, 2013 : 5:30 a.m.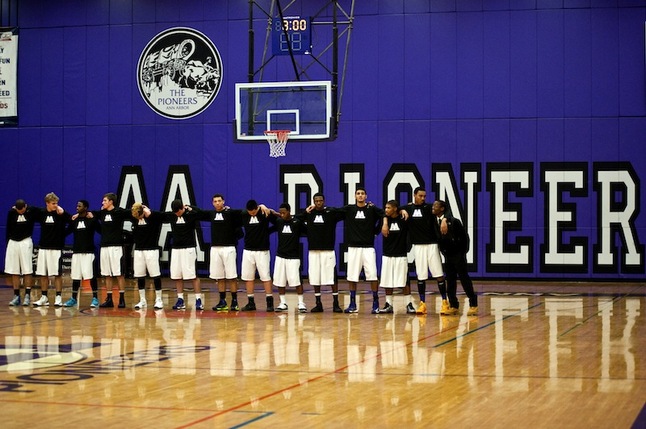 Joseph Tobianski | AnnArbor.com
After a shakeup in our boys rankings last week, this week sees little change. Our top four teams had undefeated weeks, while our fifth-place team, Skyline, fell on the road to first-place Temperance Bedford.
Outside the top five, risers in this week's rankings include Greenhills, which has just one loss on the year, and Willow Run, which has won four straight after starting the year with five straight losses.
Washtenaw County Boys Basketball Power Rankings
Rank, School (Record), Latest Result (last week's ranking)
Pioneer (12-4), def. Monroe, 67-34 Friday (1)
Huron (10-5), def. Saline, 59-50 Friday (2)
Ypsilanti (12-4), def. Dexter, 66-46 Friday (3)
Milan (16-1), def. Grosse Ile, 64-35 Friday (4)
Skyline (8-8), lost to Temperance Bedford, 59-45 Friday (5)
Saline (8-7), lost to Huron, 59-50 Friday (6)
Greenhills (15-1), def. Lutheran Westland, 51-41 Friday (8)
Lincoln (6-10), lost to Adrian, 37-36 Friday (7)
Dexter (7-9), lost to Ypsilanti, 66-46 Friday (9)
Willow Run (8-8), def. Highland Park, 71-58 Friday (11)
Father Gabriel Richard (7-10), lost to Warren De La Salle, 65-55 Saturday (10)
Chelsea (3-13), lost to Tecumseh, 45-33 Friday (12)
Arbor Prep (6-8), lost to Adrian Lenawee Christian, 62-27 Friday (13)
Rudolf Steiner (11-7), def. Marshall Academy, 68-45 Friday (15)
Whitmore Lake (5-12), def. Sand Creek, 65-55 Friday (14)
Washtenaw Christian (10-6) def. Monclova Christian, 64-40 Friday (16)
Manchester (1-17), lost to Hanover Horton, 91-53 Friday (17)
Calvary Christian (1-15), lost to Greenhills, 63-18 Tuesday (18)
Record not available: Eastern Washtenaw Multicultural, Central Academy
Huron stays atop girls rankings
Huron stays in the top spot of our girls rankings entering the last week of the regular season. The River Rats played three games in four days, with its only loss coming on the road to Class A state-ranked Clarkston, and stays atop the rankings.
The only other loss in our top five was No. 4 Ypsilanti to No. 2, Dexter, by five. Look out for Pioneer, though. Starting point guard Emily Turner returned to the lineup for the first time since December on Friday to the tune of 14 points and could help the Pioneers move up the ladder.
Washtenaw County Girls Basketball Power Rankings Rank, School (Record), Latest Result (last week's ranking)
Huron (13-5), def. Saline, 41-35 Friday (1)
Dexter (16-2), def. Ypsilanti, 48-43 Friday (2)
Manchester (17-1), def. Michigan Center, 60-38 Thursday (3)
Ypsilanti (12-6), lost to Dexter, 48-43 Friday (4)
Chelsea (12-6), def. Tecumseh, 43-25 Friday (5)
Lincoln (12-6), def. Adrian, 36-26 Friday (6)
Saline (10-8), lost to Huron, 41-35 Friday (7)
Arbor Prep (15-4), def. Ecorse, 70-23 Tuesday (9)
Pioneer (9-9), def. Monroe, 52-43 Friday (8)
Skyline (7-11), lost to Temperance Bedford, 50-35 Friday (10)
Rudolf Steiner (12-3), def. Marshall Academy, 52-32 Friday (11)
Greenhills (11-7), def. Lutheran Westland, 46-29 Friday (12)
Willow Run (8-9), lost to Detroit Community, 38-30 Friday (13)
Washtenaw Christian (9-6), def. Monclova Christian, 38-20 Friday (14)
Father Gabriel Richard (2-15) lost to Chelsea, 50-39 Monday (15)
Whitmore Lake (2-16), lost to Sand Creek, 61-38 Friday (16)
Milan (2-17), lost to Monroe Jefferson, 35-30 Thursday (16)
Record not available: Central Academy, Calvary Christian