with slideshow:

Milan's Tim Sims, Dexter's Steven Bleise win individual wrestling district titles

Posted on Sat, Feb 12, 2011 : 7:42 p.m.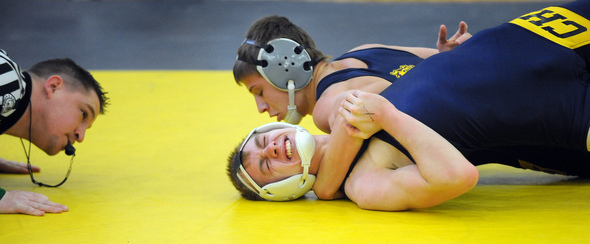 Lon Horwedel | AnnArbor.com
Milan High School's Tim Sims and Dexter's Steven Bleise each won individual titles and 18 Washtenaw County wrestlers advanced to regionals at Saturday's Division 2 individual wrestling district tournament at Dexter High School.
Milan, Dexter and Chelsea each had five grapplers qualify for regionals by finishing in the top four out of 16 wrestlers in their weight class. Ypsilanti had three regional qualifiers.
Sims, who won three matches on the day to take the crown at 152 pounds, improved his season record to 52-0.
As a junior last year, Sims went 61-7, taking sixth in Division 2 at 145 pounds, so he had his sights set high for his senior year. But even he has been surprised with his perfect record.
"I had no idea I would be undefeated at this point in the season," Sims said.
In Saturday's final, Sims beat Dexter's Drew Barnes, 11-4, in a match that he controlled for all six minutes.
Lon Horwedel is a photographer for AnnArbor.com. He can be reached at lonhorwedel@annarbor.com. Follow AnnArbor.com photography on Facebook at AnnArbor.com Photo and on Twitter at @AnnArborPhoto.