MHSAA REGIONALS:

Local high school tennis teams looking for state finals berth

Posted on Thu, May 17, 2012 : 1:14 p.m.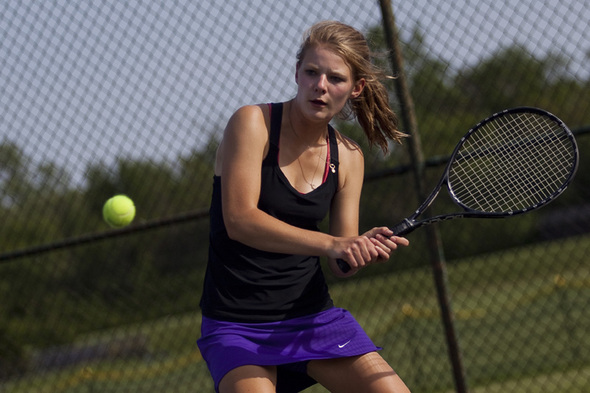 Jeffrey Smith | AnnArbor.com
It would be no surprise to anyone if the Pioneer High School girls tennis team made another run at a state championship. The Pioneers, after all, have finished first or second in the state in each of the last eight seasons.
"We can make a run. We're going to need some luck, going to need some good draws and we can make a run," Pioneer coach Tom Pullen said.
Of course, the Pioneers first have to get there.
That's not a forgone conclusion, with three of the state's top seven teams in a regional tournament Friday hosted by Huron High School. Matches will be played at Saline and Pioneer high schools. Only two teams automatically qualify from each regional.
"First of all we need to make it to the state tournament and that's not a given with the three teams here," Pullen said. "We have three really strong teams in Huron, Pioneer and Saline. They're all pretty equal."
Pioneer is currently No. 3 in the Michigan Tennis Coaches Association Division 1 poll. Southeastern Conference and regional tournament rivals Saline (sixth) and Huron (seventh) aren't far behind.
While the tough competition can hurt any of the three teams' chances of making it to the state finals, it also helps prepare them for the tough road ahead.
"We're prepared," Pullen said. "We're all prepared. All three schools have played the toughest competition."
Here is a look at each MHSAA tennis regional that includes a Washtenaw County team:
DIVISION 1
at Huron High School
When: Friday
Local teams: No. 3 Pioneer, No. 6 Saline, No. 7 Huron, Skyline, Lincoln.
Other teams: Belleville, Canton, Jackson, Plymouth, Salem, Temperance Bedford.

DIVISION 2
at Allen Park
When: Thursday
Local teams: Milan, Ypsilanti.
Other teams: Allen Park, Dearborn Heights Crestwood, Gibraltar Carlson, Lincoln Park, Romulus, Taylor Kennedy, Taylor Truman, Wyandotte Roosevelt.

DIVISION 2
at North Farmington
When: Friday
Local team: Dexter.
Other teams: No. 2 Bloomfield Hills Andover, No. 7 Bloomfield Hills Lahser, No. 7 Farmington Hills Mercy, Auburn Hills Avondale, Farmington, Farmington Hills Harrison, North Farmington, Pinckney, South Lyon.

DIVISION 3
at Grosse Ile
Local team: Chelsea.
Other teams: Adrian, Carleton Airport, Dearborn Heights Annapolis, Dearborn Heights Robichaud, Grosse Ile, New Boston Huron, Parma Western, Riverview, Trenton.

DIVISION 4
at Greenhills
Local teams: No. 7 Father Gabriel Richard, Greenhills.
Other teams: No. 3 Monroe St. Mary, Allen Park Cabrini, Clawson, Grosse Pointe Woods University Liggett, Madison Heights Bishop Foley, Onsted, Riverview Gabriel Richard, Royal Oak Shrine, West Bloomfield Frankel Jewish Academy.