With Poll:

Lincoln making bid for third Game of the Week, Chelsea looking for first; voting ends Tuesday

Posted on Mon, Sep 24, 2012 : 1:23 p.m.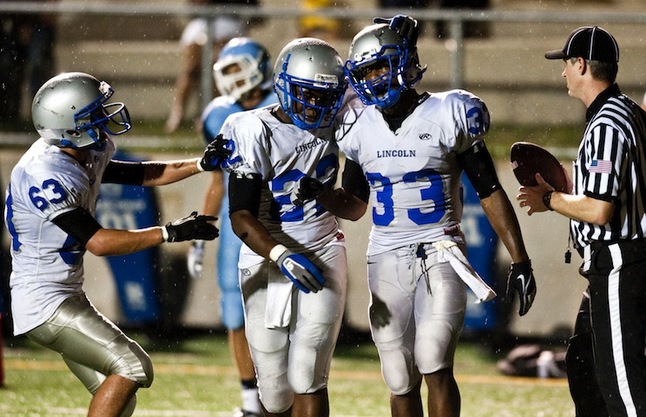 Joseph Tobianski | AnnArbor.com
Splitter Nation's bid for a "Game of the Week" three-peat is off to a good start.
As of noon on Monday, Lincoln-Chelsea held a healthy lead in this week's AnnArbor.com "Game of the Week" poll, garnering 551 of our 881 votes, more than 62 percent. Saline at Monroe has 122 votes, Temperance Bedford at Pioneer has 102, Huron at Skyline has 82 votes and Adrian at Ypsilanti has 24.
Lincoln-Chelsea may have the early lead, but it's not too late for fans of the other eight poll schools to mount a voting drive. This week's poll will close at 6 p.m. on Tuesday.
The Railsplitters are trying to win their third poll of the year, and Chelsea is vying for its first Game of the Week appearance.
Lincoln will be trying to snap a 14-game losing streak against Chelsea, dating back to 1998. But it comes in this year with a 4-1 record, fresh off a win over Dexter last week.
After losing both of its non-conference games to Jackson Lumen Christi and and East Lansing, and an SEC crossover matchup against Temperance Bedford, the Bulldogs are undefeated in SEC White play, with wins over Ypsilanti and Adrian last week.
The game will feature Lincoln wideout and Central Michigan commit Tyree Waller, who leads the area with 11 touchdowns through five games. Chelsea running back Berkley Edwards is third in the area in rushing yards with 490 yards, after a 1,500-yard season last year.
Game of the Week coverage:
AnnArbor.com will give the Game of the Week winner its Super Bowl treatment, which will include two reporters covering the game, a live chat that you can follow from your iPhone or Android device, and a photo gallery as well.