Greenhills' Kasey Gardiner, Colleen O'Brien sweep top spots at D4 tennis finals
Posted on Sat, Jun 2, 2012 : 5:11 p.m.
Kasey Gardiner is perfect.
The Greenhills School senior wrapped up her high school tennis career with an unblemished record by winning the No. 1 singles title at the Division 4 state championships Saturday in Holland.
The Gryphons' Colleen O'Brien added a title at No. 2 singles to lead Greenhills to a third-place finish in the team standings.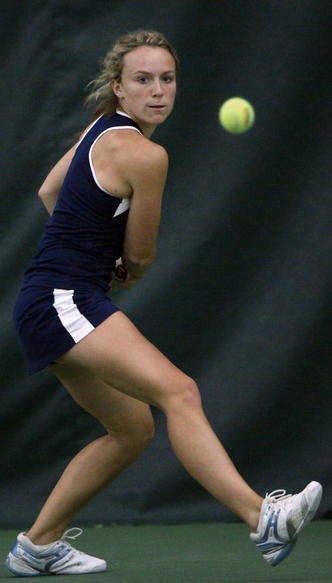 Emily Zoladz | Mlive.com
Gardiner, who'll play at Wake Forest next year, has never lost in more than 60 high school matches. She lost just two sets in her career, which started off with a state championship her freshman season.
She was ruled ineligible for the state tournament as a sophomore after mistakenly playing in too many non-MHSAA sanctioned events and did not play high school tennis as a junior, opting to play at higher levels to enhance her college recruiting status.
The closest an opponent came to beating a Gardiner on Saturday came when Kalamazoo Hackett's Meika Ashby forced a tie break set. Gardner, who won the first set 6-0, won the second-set tie break, 7-4, to clinch the title.
Gardiner beat Kelsi Black of Monroe St Mary Catholic Central (6-1, 6-2) in a semifinal early Saturday.
O'Brien, a sophomore heir apparent to the No. 1 singles spot at Greenhills, was even more dominant in her quest for a state title.
The top seed at No. 2 singles did not allow a single point while winning four matches over the weekend. Her 6-0, 6-0 win against Portland's Katie Black in the championship match followed a shutout win against Lauren Coseo of Monroe St. Mary in a semifinal.
Bloomfield Hills Sacred Heart won the team title with 29 points, followed by Monroe St. Mary with 22. (Complete standings | Story)
Greenhills finished with 17 points and Father Gabriel Richard was eighth with 11 points. No Gabriel Richard individuals or doubles teams advanced to the semifinal round.
Greenhills' No. 1 doubles team of Sarah McIntosh and Rae Schueller reached the championship match, where they lost 6-3, 6-4 to Sacred Heart's Kelsey Nagle and Emily Nash.

Chelsea scores 3 points at D3 finals
All flights from the Chelsea girls tennis team were eliminated from competition during Friday's opening round of the Division 3 state finals held in Fenton and Holly. (Complete standings and finals results)