high school football:

In game of huge performances, Skyline receivers stand out to Chelsea coach and more notes

Posted on Sat, Sep 10, 2011 : 4:13 p.m.
His own tailback had just run for nearly 300 yards and five touchdowns in a 47-32 win Friday night, but Chelsea High School football coach Brad Bush saved his most effusive post-game praise for Skyline's dynamic passing combinations.
It's not that Bush wasn't impressed by junior Berkley Edwards' 292-yard performance, but those kinds of nights became commonplace at Jerry Niehaus Field when current Michigan State running back Nick Hill was leading the Bulldogs' offense.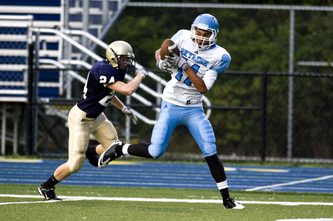 Joseph Tobianski | AnnArbor.com
What quarterback
Andrew Copp
and receivers
Jordan Woods
and
Theron Wilson
did against Chelsea's defense was a different story. The Bulldogs haven't allowed 32 points in a non-overtime game since a 2009 loss to Pioneer and it has happened just twice in the Bulldogs' last 32 games.
In fact, the 19 points Skyline put up in the first quarter alone skewed the Bulldogs' points-allowed average for the first two games of the season.
"He's what a quarterback should be about. He moves in the pocket, he's tough, he throws the ball well and you can tell he's a leader out there," said Bush, who stopped Copp on his way off the field Friday night to compliment his performance.
The Eagles continually beat Chelsea deep, with Woods (67, 62 and 35 yards) and Wilson (58 and 48 yards) scoring on long touchdown receptions.
Bush also questioned the recruiting sites that list East Lansing wide receiver Efe Scott-Emuakpor ahead of Woods. Chelsea limited Scott-Emuakpor, rated the No. 18 overall player in the state and No. 2 wide receiver by Rivals.com, to four catches for 33 yards in a 20-7 loss last weekend. Woods, rated the 115th best receiver in the nation by Scout.com, caught four passes for 198 yards on Friday.
Skyline coach Rod Jones hopes the right people are paying attention.
"We showed why a lot of people should be excited about those kids and get them on their college squads," he said. "Those guys are special. We have some really special kids."
ANSWERING THE BELL
MORE HIGH SCHOOL FOOTBALL COVERAGE
Ypsilanti senior quarterback
Darryl Tipton
has been the backup for the Phoenix through the first three games of the season. He's filled in on the occasional play, but for the most part been the second resort.
With the offense sputtering on Friday night against Pioneer, coach Jason Malloy called on Tipton to provide a jumpstart in a scoreless tie at Hollway Field. Tipton did exactly that. On his first drive as the signal caller, Tipton led the Phoenix on a nine-play, 62-yard drive, capped by an Austin Sanders touchdown to put Ypsilanti up 6-0.
Though the lead would prove short-lived in the Phoenix's 14-6 loss, Malloy liked what he saw out of Tipton when the chips were down.
"We know he's a tough kid, we've been trying to get that ability out of him the whole year," Malloy said. "We knew that Daryl possessed that, but as a coach we've been trying to reach him and make it come out."
Tipton's individual numbers weren't impressive -- 29 rushing yards on 11 carries, just 1 of 5 passing for 15 yards passing -- but the offense under Tipton moved the chains on a night when first downs were hard to come by.
"We talked a lot about playing with pride, playing for our coaches and playing with prode and he did it," Malloy said. "He understood what we wanted and when he got his opportunity he really showed it."
NUMBERS GAME
Pioneer High School senior running back Drake Johnson has been on the varsity squad since his sophomore year. All three years, Johnson has thrown superstition to the wind and changed his jersey number.
As a sophomore, he wore No. 18. As a junior, it was No. 7. For his senior season, Johnson switched to No. 2, which is the number he says he wanted all along.
"It's just all because WJF," said Johnson, in reference to Washtenaw Junior Football. "I was 2 every year with them.
"Reilly (Quigley) had it last year, so I had to wait for my turn to get it."
RARE FORM
Saline kicker Dylan Mulder neutralized Ypsilanti's dangerous kick returners in a 30-8 win last week, putting the ball into the end zone for touchbacks on all six kickoffs.
Mulder fell two yards short of his goal once against Lincoln on Friday and Rare Williams made him pay, taking the kick back 98 yards for the Railsplitter's only touchdown in a 41-7 Saline win. It was Williams' first kick return for a touchdown of the year and the longest of his high school career.
He had three last year of 90, 85 and 82 yards.
--From staff reports.