Huron's Taylor Standiford is Washtenaw County Girls Lacrosse Player of the Year
Posted on Thu, Aug 12, 2010 : 8:01 a.m.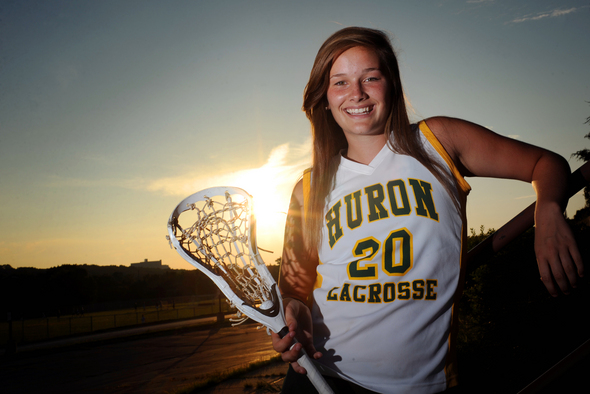 Melanie Maxwell | AnnArbor.com
The beginning of the spring season was not a promising time for the Huron High School girls lacrosse team.
The River Rats were coming off of a 3-9 campaign and, with tryouts underway, what players would make the varsity team was the least of their worries.
Despite being just a sophomore, Taylor Standiford wasn't concerned that she'd get cut. An invitee to the USA Field Hockey National Futures U-16 championships, Standiford was more worried about who would be doing the cutting.
One week into tryouts, and Huron still didn't have a coach.
"That was really nerve racking for me," Standiford recalls.
Standiford and her parents were doing everything they could to help the athletic department in the coaching search - calling every club coach and contact they knew - but were coming up empty.
"I just didn't know what to do," she said.
As luck should have it, 2006 Huron graduate Marissa Lapedis had just returned to the area, and was a friend of a friend of the Standifords. Lapedis played collegiately at McGill University in Montreal and returned to Ann Arbor so she could begin medical school at the University of Michigan.
Lapedis wouldn't begin learning to mend the wounded until August. Her alma mater, meanwhile, was in need of urgent care. So she took the job.
"I came into the position and was told their record," says Lapedis. "But I was also told they had a lot of potential."
That potential blossomed into reality as Lapedis, the AnnArbor.com Coach of the Year, led Huron to an 11-5 record and a berth in the regional finals of the state playoffs, the best of any team in Washtenaw County.
No one flourished under Lapedis more than Standiford, the AnnArbor.com Player of the Year.
"As a first year coach it was amazing to have someone at that level because it raises everyone else's level at practice," says Lapedis, who includes herself in that statement. "In terms of coaching, it would push me to think of new things to do."
Though Lapedis admits her first run at keeping team statistics left a bit to be desired, she could say with confidence that Standiford led the River Rats in practically every category. In the nine games in which stats were kept, Standiford led her team in goals (35), ground balls won (62), was the co-leader in assists (11) and, according to Lapedis, was the River Rats' best defender, attacker and middy.
"We didn't try her in goal, but maybe we should have," jokes Lapedis.
Standiford remembers being worried when Lapedis was hired.
"At first, I thought it would be weird to have someone not that much older than me for a coach," says Standiford who clearly warmed up to the idea. Lapedis could demonstrate everything she was trying to coach, be a worthy practice foe on occasion and even joined the girls on team runs.
Standiford says she noticed herself improving as an individual and the team improving as a whole.
Of course, winning always helps. The River Rats equaled last year's win total in as many games and the shift in attitude was palpable.
"Last year, people's attitudes were different. This year, people were more dedicated and enthusiastic about it. With Marissa's help and everyone having the attitude of a fresh new start with the fresh new coach, it really helped us improve as a program," says Standiford.
The junior-to-be hopes to keep the ball rolling with her new coach next season, but the future is uncertain.
"I really just hope that I can coach next year," says Lapedis, "but I'm in medical school right now, so I haven't promised it. I'm hoping to be able to balance it."