Huron girls finish season atop AnnArbor.com Power Rankings, Pioneer boys solidify No. 1 spot
Posted on Mon, Feb 25, 2013 : 5:26 a.m.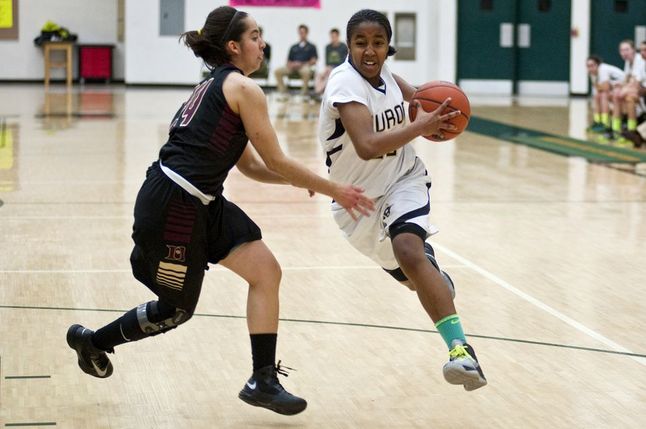 Joseph Tobianski | AnnArbor.com
For the second time this month, the top two teams in our AnnArbor.com Washtenaw County Girls Baskeball Power Rankings met. And for the second time, Huron showed why it's the top team in the area, this time with a 15-point Friday win over Dexter.
The win not only earned the River Rats the season sweep over the Dreadnaughts, but means it will finish the year as the No. 1 team in our final rankings of the season.
Girls teams finished their regular seasons Saturday. District games get underway Monday.
Dexter holds on to the No. 2 spot despite the loss, while Manchester completed a 19-1 regular season to finish at No. 3.
Chelsea had its Friday crossover with Temperance Bedford canceled due to weather, but finished out its season with a three-game win streak and a 12-point road win at Lincoln and moves up to No. 4.
Ypsilanti, which lost to Saline to finish its regular season, moves down to No. 5.
Washtenaw County Girls Basketball Power Rankings
Rank, School (Record), Latest Result (last week's ranking)
Huron (15-5), def. Dexter, 34-19 Friday (1)
Dexter (17-3), lost to Huron, 34-19 Friday (2)
Manchester (19-1), def. Grass Lake, 54-38 Thursday (3)
Chelsea (13-6), def. Lincoln, 50-38 Tuesday (5)
Ypsilanti (13-7), lost to Saline, 51-48 Friday (4)
Lincoln (13-7), def. Pioneer, 32-19 Friday (6)
Saline (12-8), def. Ypsilanti, 51-48 Friday (7)
Arbor Prep (16-4), def. Whitmore Lake, 71-21 Tuesday (8)
Pioneer (9-11), lost to Lincoln, 32-19 Friday (9)
Skyline (7-13), lost to Tecumseh, 59-46 Friday (10)
Rudolf Steiner (12-3), idle (11)
Greenhills (11-7), idle (12)
Willow Run (9-11), lost to Lawrence, 38-31 Thursday (13)
Washtenaw Christian (10-6), def. Westland Huron Valley Lutheran, 37-27 Tuesday (14)
Father Gabriel Richard (2-15), idle (15)
Whitmore Lake (3-17), def. Rochester Hills Lutheran Northwest, 30-27 Thursday (16)
Milan (2-18), lost to Onsted, 73-20 Thursday (17)
Record not available: Central Academy, Calvary Christian
Pioneer solidifies top boys spot
Pioneer solidified its top ranking by beating Temperance Bedford, ranked No. 8 in the Associated Press Class A poll, Tuesday, when it became the first team in Michigan to beat the Kicking Mults.
The Pioneers and the three teams below it in the rankings all finished with undefeated weeks. Huron stays in No. 2, and Ypsilanti stays in No. 3. Milan finished its regular season at 19-1 with a four-point win over Belleville to remain No. 4.
Skyline, No. 5 in the rankings, finishes the season with two straight losses, but holds on to the No. 5 spot after playing close games against both Pioneer and Huron.
Washtenaw County Boys Basketball Power Rankings
Rank, School (Record), Latest Result (last week's ranking)
Pioneer (14-4), def. Skyline, 65-55 Thursday (1)
Huron (13-5), def. Monroe, 56-32 Thursday (2)
Ypsilanti (14-4), def. Tecumseh, 64-26 Thursday (3)
Milan (19-1), def. Belleville, 46-42 Saturday (4)
Skyline (8-10), lost to Pioneer, 65-55 Thursday (5)
Saline (9-9), lost to Temperance Bedford, 72-60 Saturday (6)
Greenhills (15-1), idle (7)
Dexter (9-9), def. Lincoln, 47-37 Thursday (9)
Lincoln (7-11), lost to Dexter, 47-37 Thursday (8)
Willow Run (10-8), def. DEPSA, 55-48 Friday (10)
Father Gabriel Richard (7-10), idle (11)
Arbor Prep (7-9), def. Saline Washtenaw Christian, 54-38 Friday (13)
Chelsea (3-15), lost to Adrian, 58-57 Thursday (12)
Rudolf Steiner (11-8), lost to Livingston Christian, 58-41 Friday (14)
Whitmore Lake (6-13), def. Petersburg Summerfield, 63-58 Friday (15)
Washtenaw Christian (11-7) lost to Arbor Prep, 54-38 Friday (16)
Manchester (1-18), lost to Addison, 84-52 Friday (17)
Calvary Christian (2-16), def. Warren Macomb Christian, 35-32 Friday (18)
Record not available: Central Academy, Eastern Washtenaw Multicultural