with gallery:

Huron advances to field hockey state finals with win in penalty strokes

Posted on Thu, Oct 25, 2012 : 10 p.m.
It didn't come easy, but the Huron High School field hockey team is headed back to the state championship and looking to win its third consecutive state title after beating the Novi Wildcats 1-0 Thursday night at Saline High School. The teams were scoreless after regulation and two overtimes and Huron won 4-3 in a penalty stroke shootout.
"I'm just really proud of this team because we did lose a lot of talent last year and I think that we proved to ourselves that we can come together as a team, even when we're nervous," said senior midfielder and team captain Casie Ammerman.
More coverage on MLive: Boxscore | Bracket
Huron goaltender Tulin Babbitt, a sophomore, made five saves in the penalty stroke session including the final save on Novi's Lauren Brown.
"Tulin is just so calm and confident and I have 100 percent trust in her. She has really stepped up this year, even as a sophomore and I'm really, really proud of her," Ammerman said.
Ammerman scored twice in penalty strokes and was a force during the game on both offense and defense. She credited her experience as a key reason why she was able to perform under pressure in such a close game.
"I just tell myself to take a deep breath," Ammerman said. "I just think to myself, 'you got this, you've done this a million times in practice' and it just goes from there."
The River Rats had plenty of opportunities to score in regulation, but time-after-time, the Wildcats defense and goaltender Katrina Koomen were up to the task.
Koomen had seven saves during the game and four in the penalty stroke session to keep her team in the match.
Coming out of halftime, Huron had four corner attempts in the first four minutes, but only got one shot through to Koomen who made the save.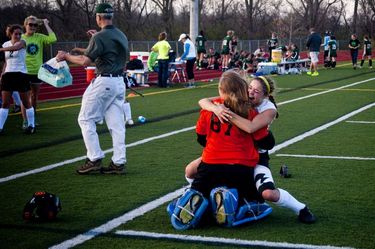 Joseph Tobianski | AnnArbor.com
From there, Novi was able to dictate play and keep pressure on the River Rat defense.
"They played a great game, they have a lot of speed up top and I think our defenders did a good job stopping the play, " Ammerman said. "They had a lot of aggression and you could tell that they wanted it."
Huron head coach Tia Sutton said she knows being two-time defending champs makes her team a target, but is confident her team can handle it.
"There's a little bit of pressure," Sutton said with a laugh. "They (Novi) have nothing to lose and they played a great game. But we definitely grinded it out today."
Novi had a chance to win the game with about 45 seconds left, but Sofi Mosso's shot on a breakaway missed just left of the cage.
Huron will play Pioneer in the final at 2 p.m. at Saline High School. Pioneer beat Bloomfield Hills Marian 1-0 on Thursday in the late semifinal.