football roundup:

Dexter picks up first win in season finale and more Friday night football results

Posted on Fri, Oct 19, 2012 : 11:01 p.m.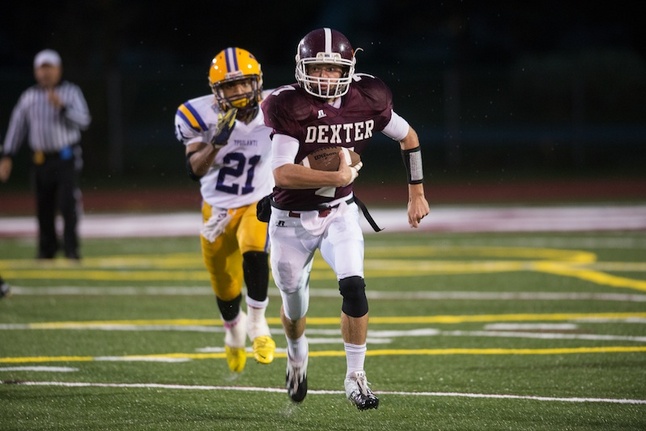 Courtney Sacco | AnnArbor.com
This file will be updated
AnnArbor.com Washtenaw County Scoreboard:
Dexter 13, Jackson Northwest 6
Story | Boxscore
After Jackson Northwest's Noah Olmsted tied the score at 6-6 on a 22-yard touchdown run in the third quarter, Dexter (1-8) went ahead and won the game in the fourth quarter.
It was Dexter's first victory of the season. Both schools concluded the campaign with a 1-8 record
Dearborn 44, Skyline 7
Story | Boxscore
Ann Arbor Skyline's (2-7) Nate Spencer led with 59 yards rushing on 7 carries. Askaree Crawford scored on a 1-yard run for the Eagles' only score of the night.
Flat Rock 60, Willow Run 14
Story | Boxscore
Flat Rock used a 36-point first quarter to take control of the game, and secure its fourth win of the season.
Freshman quarterback Marquis Smith led the Ypsilanti Willow Run (2-7) offense, going 15-32 for 261 yards, and adding 109 yards on the ground.
Senior wideout Devere Pipkins recorded 161 yards receiving. Teammate Martez Freeman added 67 yards receiving.
Petersburg Summerfield 28, Whitmore Lake 20
Details not available
Monroe St. Mary Catholic Central 49, Ypsilanti 6
Details not available
Saline 42, Novi 7
Details not available
AnnArbor.com coverage
Milan 36, Lincoln 14
Story | Boxscore| Milan's 2 QBs
Pioneer 31, Livonia Franklin 17
Story | Boxscore
Chelsea 28, Haslett 14
Story | Boxscore
Westland John Glenn 37, Huron 0
Story | Boxscore
Thursday results
Fowler 21, Manchester 7
Story | Boxscore
In a game played at Olivet High School, Manchester fought tooth and nail to stay with Fowler but Fowler scored with four minutes remaining to put the game out of reach.
"They scored with that time left and we couldn't respond," Manchester coach Wes Gall said.
"They smacked us hard all night and we didn't smack back hard enough. I can't say we played at the level we did against Michigan Center. We wanted to split the difference tonight because of the distance and so we settled on Olivet so the kids could get an idea of what it was like to play on turf."
Jim Kurasz had 11 carries and 73 yards to lead Manchester.