Football roundup:

Pioneer, Saline win defensive battles in SEC and more Friday results

Posted on Sat, Sep 29, 2012 : 12:45 a.m.
Pioneer 14, Temperance Bedford 13
Story | Boxscore
Temperance Bedford (3-3, 2-2 SEC Red) scored a touchdown with three minutes left to pull within one, but a two-point conversion failed as Pioneer (4-2, 4-0 SEC Red) hung on for the win.
Marquise Thomas scored on a one-yard run in the fourth quarter to give the Pioneers a 14-7 lead with 4:28 remaining in the game. Thomas finished with 67 yards on 13 carries and two catches for 37 yards. Aedan York threw for 131 yard and had an interception.
Saline 20, Monroe 13
Story | Boxscore
Tied at 13-all to end the third quarter, Saline's Kevin Gross scored on a 20-yard run to give his team the win and Monroe its first loss of the season.
Gross led the Hornets (5-1, 3-1 SEC Red) with 175 yards on 25 carries, while Tyler Palka completed 13 of 23 passes for 148 yards and one touchdown.
Grass Lake 38, Manchester 13
Story | Boxscore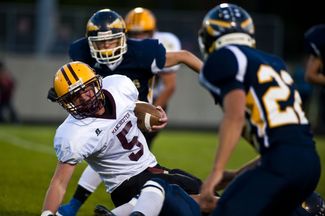 Joseph Tobianski | AnnArbor.com
After winning eight straight games against Grass Lake from 2003-10, Manchester dropped its second straight to the Warriors Friday night, losing 38-13.
Jimmy Kurasz, led the Flying Dutch with 174 yards on 15 carries, including an 82-yard touchdown run in the first quarter. Nick Cozart added a 4-yard touchdown in the second quarter.
Manchester is now 4-2 (4-1 Cascades Conference) while Grass Lake is 5-1 (4-1 Cascades).
Milan 42, Flat Rock 10
Story | Boxscore
Milan continued its bounce-back season with a Huron League road win and qualified for its fifth playoff appearance in six years.
Milan (6-0, 5-0 Huron League) used extra motivation heading into the game.
"I think our kids took it pretty personal that we were playing at Flat Rock's homecoming," Milan coach Jesse Hoskins said. "Obviously, getting the sixth win was big for them."
Tecumseh 49, Dexter 0
Story | Boxscore
Tecumseh put up 28 points in the first quarter and took a 35-0 lead into halftime.
Matt Mitchell was 15-for-34 passing with 134 yards to lead Dexter (0-6, 0-4 in SEC White), and Tyler Kinzel finished with five tackles.
"Tecumseh (6-0, 4-0 SEC White) is a good team," Dexter head coach Ryan Fisher said. "We're banged up. Our team fought to the end, and they couldn't battle anymore. We're hoping to end on a high note in the last three games here."
Clinton 61, Whitmore Lake 0
Story | Boxscore
Clinton compiled 452 yards of offense en route to ending its two-year playoff drought.
The Redskins (6-0, 4-0 Tri-County Conference) jumped out to a 48-0 halftime lead. Colin Poore, T.J. Baker and Brett Tschirhart each had two rushing touchdowns. Baker added 175 yards passing on 11-of-13 attempts with a 22-yard touchdown to Matthew Sexton.
Whitmore Lake (1-5, 1-3 TCC) was held to 116 total yards.
Adrian 34, Ypsilanti 6

Game details not available.
Detroit Westside Christian 28, Willow Run 0
Game details not available.
Annarbor.com coverage:
Skyline 41, Huron 34
Story | Boxscore
Chelsea 41, Lincoln 20
Story | Boxscore | Gallery | Chelsea defense

Game of the Week:
Vote for next week's Game of the Week. Voting is open until Tuesday at 7 p.m.