Former Ann Arbor high school stars impress Michigan football coaches at camp
Posted on Mon, Aug 13, 2012 : 5:45 a.m.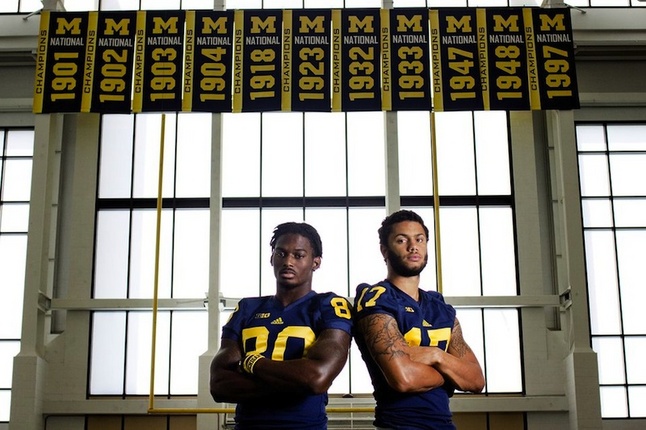 Jeffrey Smith | AnnArbor.com

Drake Johnson, Jeremy Jackson and Ricardo Miller all played high school football down the road from Michigan Stadium. Jackson at Ann Arbor Huron, Miller and Johnson at Pioneer.

All have impressed their respective position coaches with the Michigan football team since practice began last week.

For Jackson - a junior wide receiver and son of longtime running backs coach Fred Jackson - the impressive play is a progression from a successful spring practice.

"I said it coming out of the spring, I thought (Jackson) was the most improved coming out of the spring and he's definitely picked it up from there and has really elevated his game and has really done a great job at this point," said wide receivers coach Jeff Hecklinski.

Jackson appeared in all 13 games last year and in nine as a freshman. He has seven career receptions for 91 yards. Hecklinski said he feels Jackson will get the opportunity to improve on those numbers this year.

"Jeremy Jackson's gonna have a heck of a lot of time - a heck of a lot of time - on that field and he's going to be able to make a lot of plays during the year," Hecklinski said.

"I'm just working real hard right now, trying my best," Jackson said during media day on Sunday.

Miller, a junior, is switching from tight end to wide receiver after making the opposite switch last year. He said he's happy to be back playing the position at which he was All-State at Pioneer as a senior.

"He's handled (the switch) very well," Hecklinski said. "The rationale was that he just wasn't going to put his hand on the ground and be able to block a 290 pound defensive end.

"It became evident that that wasn't going to be his strong suit. So what the thought was let's move him back (to wide receiver)," Hecklinski said. "Let's take his skill set that he has and let's utilize it to the offense, while also allowing him some comfort to let him know that he can play where he feels comfortable."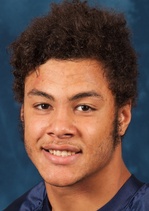 At 6-4, 226 pounds, Miller is ten pounds lighter than he was as a tight end. Though Miller said he always preferred wide receiver, he thinks learning the route combinations that came along with the position switch will make him a better player in the long run.
"I am really working on my cuts, breaks and my hands. Have definitely taken this offseason to work on my craft," Miller said.
Unlike Jackson and Miller, Johnson - last year's Washtenaw County player of the year - didn't have the advantage of spring practice prior to his first fall camp, but Fred Jackson said there is already noticeable improvement in the freshman running back's game since last fall.
"He's running with his pads down, which is something that he didn't do a lot in high school. He's had some excellent days," Jackson said. "He's been very, very good. He's very powerful. I didn't realize the power this kid has."