Chelsea's Arctic Coliseum hosts high school hockey's largest event
Posted on Wed, Feb 9, 2011 : 2:15 p.m.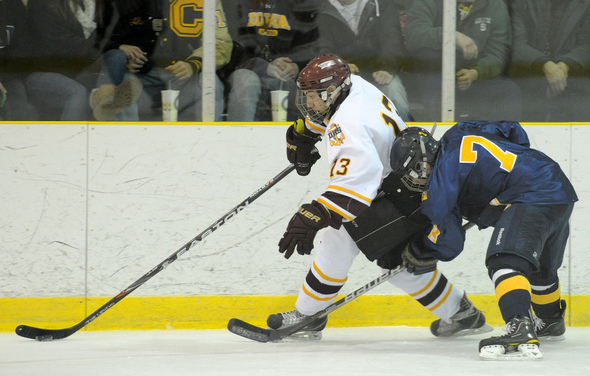 AnnArbor.com file photo
If you're looking for some highly competitive high school hockey in Michigan this week, the Arctic Coliseum in Chelsea is the place to be. Actually, it's practically the only place to be.
Forty-four hockey programs from across the state, including four from Washtenaw County, are flocking to the Arctic Coliseum for the inaugural Michigan Public High School Hockey Invitational Showcase, which runs Wednesday through Saturday.
The four-day event includes 43 games and will be the largest high school hockey event in Michigan this year. Saline, Dexter and Pioneer will participate along with host Chelsea.
"First of all, it's great to have anything like this in Chelsea. But to give them the largest showcase there's been, it's pretty exciting," said Chelsea coach Don Wright, who is also general manager of the Coliseum. "There's obviously going to be a lot of great hockey with teams from all over."
Teams from Marquette (452 miles) and Escanaba (428 miles) are making the trip, and the event will feature seven of the top 10 teams in the coaches association's Division 1 rankings, including nearby squads from Salem (No. 6), Brighton (No. 7) and Canton (No. 8). The highest-ranked showdown of the week will take place Thursday night when No. 2 Novi and No. 3 Howell play at 8 p.m.
When scheduling the showcase, MPHSH organizers tried to match up teams with similar records in hopes to produce the most competitive games possible.
The Arctic Coliseum has two sheets of ice, can seat 2,500 people, has an arcade and concessions area, and a sit-down restaurant, the Arctic Breakaway, overlooking both rinks.
"I think the organizers wanted to have a place that certainly had more than one rink and can be a venue that people could enjoy going to," said Wright. "Even location wise, with teams coming from all over the state, I think our location was one everyone felt good about."
Nearby teams like Saline definitely don't mind the close locale. In fact, up until this season, the Arctic Coliseum was the Hornets' home ice for seven years.
"I really like Chelsea's rink," said Saline coach Drew Denzin. "I think our logo's still on the ice. It should feel a little bit like home."
Saline and Chelsea will christen the showcase Wednesday, each competing in one of the six games held on the opening day. The Hornets are scheduled to face Hartland at 2:45 p.m. while the Bulldogs play Livonia Churchill at 3 p.m.
"There's sort of the excitement of playing in this showcase," added Denzin. "When you get so many teams coming, you get these teams you normally wouldn't play."
With an array of hockey talent filling the Arctic Coliseum, fans won't be the only ones occupying the stands, according to Wright.
"I've heard scouts and college coaches talking about it," said Wright. "I think a lot of people are really excited (for the showcase) from all different angles.
"The purpose is to showcase the talent in the public high schools in Michigan. Being the first year, I thought it was outstanding that there are 44 teams."
MPHSH Showcase games featuring Washtenaw County teams. Complete schedule available at www.mphsh.com.
Wednesday Saline (8-9) vs. Hartland (9-8-1), 2:45 p.m. (South Rink)
Chelsea (11-7) vs. Livonia Churchill (9-8-1), 3 p.m. (North Rink)
Thursday Pioneer (10-6-1) vs. Milford (1-10), 12:15 p.m. (South Rink)
Friday
Dexter (4-12-1) vs. Anchor Bay (4-11-1), 12:15 p.m. (South Rink)
Chelsea (11-7) vs. Clarkston (10-6), 8 p.m. (North Rink)
Saturday
Pioneer (10-6-1) vs. Dexter (4-12-1), 6:15 p.m. (South Rink)
Saline (8-9) vs. Rochester Stoney Creek (8-8), 8:15 p.m. (South Rink)