beat pete:

'Beat Pete' postseason edition with an in-depth look at Washtenaw County's football playoff games

Posted on Thu, Oct 25, 2012 : 5:45 a.m.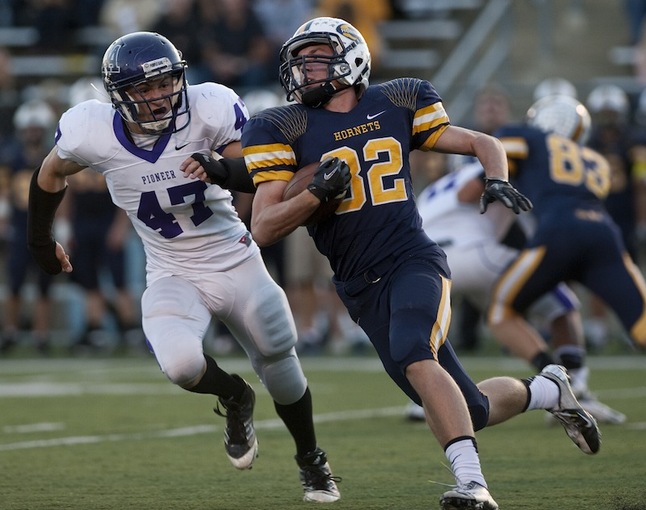 The final week of the regular season was a middle of the road performance for my "Beat Pete" picks. I went 9-3 and 52 readers were able to get the best of me.

But just as the postseason offers teams a fresh slate, I consider myself undefeated heading into picks for the six playoff games involving Washtenaw County teams, even if it is because I'm 0-0.

In honor of the playoffs, this week's "Beat Pete" contest offers an extensive preview for each of the six games involving area teams. Enjoy.

BEDFORD (6-3) AT SALINE (8-1)



SALINE VS BEDFORD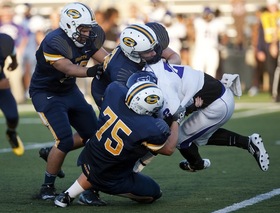 Daniel Brenner | AnnArbor.com
What:
Division 1 district semifinal
.
When: Friday, 7 p.m.
Where: Saline High School.
Winner plays: Pioneer (6-3) vs. Monroe (7-2) winner.
Last meeting: Saline won 28-25 in Week 5.
All-time series: Saline leads 7-6.
Bedford vs. 2012 playoff teams: 2-3.
Saline vs. 2012 playoff teams: 3-1.
Scouting Saline: The Hornets under first-year coach Joe Palka have been an offensive machine with senior quarterback Tyler Palka (Joe's son) leading the way. Tyler has completed 123-of-179 passes (68.7 percent) for 1,648 yards and 15 touchdowns on the season and is also the team's leading rusher with 573 yards and six touchdowns on the ground.
Saline's spread offense utilizes multiple receivers out wide, and out of the backfield but none more dangerous than big play threat Gage Hammond, who has taken eight of his 33 receptions for touchdowns this year. Kevin Gross can do damage rushing (97 rushes, 569 yards, 11 TDs) or catching (22 receptions, 299 yards, 1 TD) the ball as well.
The offense may get the headlines, but the drastic improvement of the Hornets' defense from last year is remarkable. Saline gave up an average of 12.6 points per game this season, down from 28.2 a year ago, no doubt a credit to platooning of the offensive and defensive units.
Scouting Bedford: The Kicking Mules run the triple option on offense but with quarterback Brad Boss at the helm it might as well be called the single and two others option.
Boss is dangerous and was dangerous the last time the teams played, rushing for 150 yards and three touchdowns. Saline is the "favorite" and has home field advantage because of it, but it's worth noting that the Kicking Mules' two in-state losses were by a combined four points and the other to Ohio powerhouse Toledo Central Catholic.
X-Factor: Scoring early and points after touchdowns. Saline scored the first 12 points of the first half and the first ten points of the second in its 28-25 win in Week 5. Bedford's not made to play catch up. Also, the teams had a combined three missed extra points and three failed two-point conversions the first time they met. Those points could be the difference in a tight game.
Pete's pick: Saline, 24-22.

PIONEER (6-3) AT MONROE (7-2)
PIONEER VS. MONROE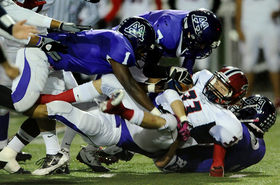 What:
Division 1 district semifinal
.
When: Friday, 7 p.m.
Where: Monroe High School.
Winner plays: Saline (8-1) vs. Temperance Bedford (6-3) winner.
Last meeting: Monroe won 19-12 in Week 7.
All-time series: Pioneer leads, 6-1.
Pioneer vs. 2012 playoff teams: 2-2.
Monroe vs. 2012 playoff teams: 2-2.
Scouting Pioneer: Pioneer is a tough team to scout because of the circus that has accompanied the brawl that took place after its game with Huron two weeks ago. Head coach Paul Test is currently serving a two-game suspension and former Dexter head coach Tom Barbieri is in charge in Test's absence. But Barbieri has been instructed by Ann Arbor Public Schools officials not to comment on player discipline, so we don't know which players, if any, won't play for Pioneer this week due to continued suspension.
Here's what we do know: in Pioneer's regular season finale against Livonia Franklin, defensive standouts Dewan Olive-Abinojar and Darius Sanderford were out as was fellow defensive starter Tommy Pokorney, who has been out several weeks with an injury. If any of those defensive starters don't play against Monroe -- be it due to injury, suspension, political protest, best friend's birthday party, or whatever -- the Pioneer defense will not be at its best and that's a problem.
Pioneer's defense gave up just 7.3 points per game against Southeastern Conference opponents. Any chink in that armor hurts Pioneer's chances.
Plus, senior quarterback Aedan York is done for the season due to injury. The Pioneers only averaged 9.8 points against playoff opponents when York was healthy and that number is likely to dip with him in street clothes. How running back Marquise Thomas goes -- 848 rushing yards this season -- so will the Pioneer offense.
Scouting Monroe: Monroe won its first six games of the year, all against non-playoff opponents, and rose as high as No. 6 in the Division 1 Associated Press rankings until dropping two-of-three against the upper-echelon of the Southeastern Conference Red Division. Sound familiar? It's the same song and dance as last year, but with one major change: the one win against the SEC Red's elite was a 19-12 victory over Pioneer.
In that win, Monroe scored first which is the key to this game. Neither offense is built to come back, with Monroe relying on the running back tandem of Jacob Nadeau and Gaetano Paolino who combined for a modest 112 yards the first time the teams met.
X-Factor: The first time these teams played Pioneer fumbled the ball four times with Monroe recovering two, so ball security is important, but everything takes a backseat to the personnel questions surrounding Pioneer.
Pete's pick: Monroe, 21-10.
CHELSEA (6-3) AT TECUMSEH (7-2)
CHELSEA VS. TECUMSEH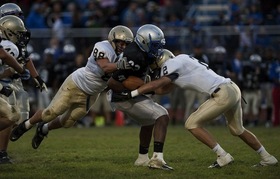 What:
Division 3 district semifinal
.
When: Friday, 7 p.m.
Where: Tecumseh High School.
Winner plays: Milan (9-0) vs. Carleton Airport (6-3) winner.
Last meeting: Chelsea won 31-28 in Week 7.
All-time series: Chelsea leads, 31-11.
Chelsea vs. 2012 playoff teams: 1-3.
Tecumseh vs. 2012 playoff teams: 1-2.
Scouting Chelsea: Chelsea is led on offense by senior running back Berkley Edwards, who put together his second straight season of more than 1,000 rushing yards, rushing for 1,386 yards and 21 touchdowns on the year.
The Bulldogs really needed Edwards to step up after starting the season 0-3 and he did just that, averaging 7.4 yards per carry in the team's six wins with four games of more than 200 yards rushing. The only games Edwards didn't top 200 yards rushing over the past six were blowout wins over Dexter and Ypsilanti in which he saw limited touches.
"Right now he is the best (running back) I have ever had here," Chelsea coach Brad Bush said of Edwards' play down the stretch.
That's high praise considering that just three years ago Michigan State running back Nick Hill put together the sixth-best rushing career in state history from the Chelsea backfield.
Colton Platt's speed to the outside keeps teams from being able to stack the box to stop Edwards. If they do, he can hurt them rushing or receiving.
Scouting Tecumseh: Tecumseh quarterback Ben Dreslinski is the best quarterback in the Southeastern Conference and may end up playing in another SEC when all is said and done. On the year, Dreslinski has completed 111-of-173 passes (64.2 percent) for 1,691 yards and 21 touchdowns versus just five interceptions and rushed for 580 yards and nine touchdowns.
Just like another SEC quarterback with freakishly similar numbers (Saline's Tyler Palka) Dreslinski is a senior transfer but has had no problem finding a rhythm with his receiving corps, led by Casey Hunt, John Terry and Spencer Adams. Adams and Terry are also dangerous rushers.
As well as Tecumseh played in six straight blowout wins to start the season, the Indians probably found out more about their team over the past three weeks with games all decided by three points or less. Though Tecumseh went 1-2 over that span, playing in tight games down the stretch could prove invaluable.
X-Factor: Special teams, turnovers, trick plays, weather -- aka the little things. When Chelsea beat Tecumseh 31-28 in Week 7, Edwards got his and so did Dreslinski, but every little thing -- a halfback pass and fumble recovery for touchdowns, a 42-yard field goal, a recovered onside kick -- went Chelsea's way. The stars will likely shine again, but the minute details, often overlooked in the boxscore, could be the difference
Pete's pick: Chelsea, 27-24.

CARLETON AIRPORT (6-3) AT MILAN (9-0)
MILAN VS. AIRPORT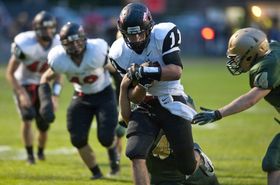 What:
Division 3 district semifinal
.
When: Friday, 7 p.m.
Where: Milan High School.
Winner plays: Chelsea (6-3) vs. Tecumseh (7-2) winner.
Last meeting: Milan won 41-0 in Week 8.
All-time series: Milan leads 29-15-1.
Milan vs. 2012 playoff teams: 3-0.
Airport vs. 2012 playoff teams: 1-3.
Scouting Milan: The Big Reds keep the ball on the ground and play good defense. That's been the hallmark of the program since long before Jesse Hoskins was the quarterback at Milan and continues to be now that he's the head coach. Milan's formidable rushing attack is led by Washtenaw County's leading rusher Arthur Dukes, who has rushed for 1,473 yards and 17 touchdowns. The last time Milan played Airport, Dukes had 115 yards and a touchdown, pedestrian by his standards, but in a 41-0 blowout the Big Reds didn't exactly need him to be the workhorse.
In Milan's two-quarterback system, when Robert Kanitz is in the game, Milan's running (he's rushed for 816 yards and touchdowns), when Justin Aceves is in, it's likely to be a pass (he's completed 50-of-75 passes for 849 yards and seven touchdowns. It may be predictable, but good luck stopping it.
On defense, Kanitz leads the 4-3 defense that's given up just 11.2 points per game.
"Robert has been the best player on the field in all our games. Tough football player," said Hoskins said of his quarterback/linebacker.
Scouting Airport: Former Airport coach Adam Barber was dismissed from the team just prior to the season, which is tough for any team to take, and the Jets managed to claw into the playoffs with an 11-10 victory over Tecumseh in Week 9 and a 21-point comeback in Week 7 over Monroe Jefferson.
Hoskins has called the Jets tough in the past, they proved that in dramatic fashion down the stretch even if they looked horrible against Milan. Josh Bernard is Airport's go-to guy out of the backfield, but he'll have to do better than he did the last time against Milan, nine rushes for 34 yards, for Airport to have a chance.
X-Factor: Apathy. There's no sign of complacency from undefeated Milan, but a rematch of a 41-0 blowout has the danger of players thinking the win is in the bag.
Pete's pick: Milan, 35-14.

DUNDEE (6-3) AT GABRIEL RICHARD (8-1)
Editor's note: The article previously stated that the Dundee vs. Ida game was played in Week 9, when it actually was played in Week 5. The correction has been made.
DUNDEE AT GABRIEL RICHARD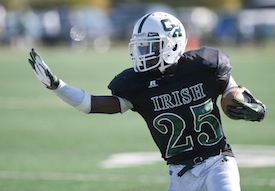 What:
Division 5 district semifinal
.
When: Saturday, 1 p.m.
Where: Father Gabriel Richard High School.
Winner plays: Lake Fenton (7-2) vs. Jackson Lumen Christi (8-1) winner.
Last meeting: Gabriel Richard won 35-0, October 24, 2006.
All-time series: Dundee leads 4-1.
Father Gabriel Richard vs. 2012 playoff teams: 4-1.
Dundee vs. 2012 playoff teams: 0-3.
Scouting Gabriel Richard: Gabriel Richard took a tough hit when senior quarterback Joseph Kendzicky went down with his second broken arm of the season in Week 4, but the Fighting Irish rallied behind their defense and backup quarterback Mason Sarosi. Richard won its final five games of the season, including a 17-12 win over Pontiac Notre Dame Prep in the Catholic League AA Prep Bowl, avenging its only loss of the season.
Richard gave up just 8.6 points per contest in that five-game span.
Offensively, Ashton Hundley is an explosive threat every time he touches the ball with 981 rushing yards and 14 touchdowns and a 7.3 yards per carry average on the season. Blaise Stearns and Steve Tracy make for a dangerous receiver combo, though the Irish keep the ball on the ground most of the time.
Tracy is also an effective return man (16 yards per punt return and a 29.3 yards kick return average) punter (32.2 yards per punt) and kicker which allows Richard to play the field position game.
Scouting Dundee: Dundee is a running team, but it added an option element to its offense against rival Ida in Week 5. It worked, as the Vikings won 34-14 to secure their playoff spot.
Quarterback Dylan Williams rushed for 241 yards and three scores in the first quarter the first time the Vikings used the option and with that success it's no surprise Dundee has stuck with the approach.
X-Factor: Playing at 1 p.m. on a Saturday? Gabriel Richard is used to it. Dundee is not.
Pete's pick: Richard, 41-10.

MANCHESTER (6-3) AT CLINTON (9-0)
MANCHESTER VS. CLINTON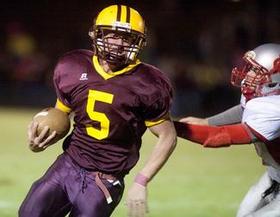 What:
Division 6 district semifinal
.
When: Friday, 7 p.m.
Where: Clinton High School.
Winner plays: Michigan Center (8-1) vs. Grass Lake (8-1) winner.
Last meeting: Clinton won 32-14 in Week 1.
All-time series: Manchester leads 33-30-1 since 1950.
Manchester vs. 2012 playoff teams: 1-3.
Clinton vs. 2012 playoff teams: 3-0.
Scouting Manchester: Manchester has traditionally been an air-it-out team, but coach Wes Gall adjusted his game plan to the personnel this year and kept the ball on the ground. The Flying Dutchmen's ground attack is led by Jimmy Kurasz (949 yards, 9 TDs) and Nick Cozart (478 yards, 12 TDs).
Manchester has been snake bitten the past two years in the playoffs, losing two-point contests in the first round each time in games in which it was the home favorite. Now Manchester is the road underdog looking for a chance to avenge its opening week 32-14 loss against its oldest rival.
"We've played them for 100 years, we might as well play them one more time," Gall said.
Quarterback Ryan Stiles was making his first ever varsity start when the teams met in Week 1. Stiles has nine starts under his belt now and Manchester is a better team.
"We felt like we did not play our best football against them in the first part of the season," Gall said. "They moved the ball well, we made some mistakes to help them out, gave them the ball in pretty good position a couple of times. We're hoping that those first game jitters are gone."
Scouting Clinton: The Redskins had an undefeated regular season for the first time since 1990 and have done so with a balanced team. Clinton gives up just 10.9 points per game and scores 37 points per game.
"They've got an awful good club, excellent offense and defensive fronts," Gall said.
Junior quarterback Timothy Baker stepped up after Ben Dreslinski's transfer to Tecumseh completing 66-of-97 passes for 1,062 yards and nine touchdowns and has also rushed 92 times for 729 yards and 11 touchdowns. Sophomore running back Colin Poore leads Clinton's rushing attack with 848 yards and 13 touchdowns on the year.
Poore and Baker rushed for 140 and 120 yards respectively the first time the teams met with three touchdowns apiece.
X-Factor: Hot start. Manchester trailed 19-0 at halftime the first time the teams met and was never able to play its game. Scoring early, or keeping Clinton off the board early, could determine the contest.
Pete's pick: Clinton, 30-20.
Beat Pete Winners
The following people "Beat Pete" last week:
Josh McCaman
Michael Lange
Karen Smith
Pam Miller
Beth Starkey
Bruce Szcodronski
Mark Musolf
Fred Anstead
Brandon Brown
Van Belanger
Richard Love
Jojo Hendro
Benjamin Swayze
Matt Faunce
Nate Jones
Jay Miles
Kendil Tinsley
Jason Stidham
Robert Pacheco
Mark Majeske
John Phillips
Dave Ross
Matt Durr
Nick Bertoia
Jason Idalski
Jeff Frank
Josh Tropea
Richard Ernst
David Hendrickson
Lorie Kitchen
Kristine Dreffs
Noah Salisbury
Matt Hession
Ken Kowalski
David Smith
Chris Tilton
Mike McCarthy
Lorraine Hergenreder
Chuck Maynard
Gabe Burdette
Denise Rinesmith
Tim Breen
Dave Rodriguez
Mark Hergenreder
David Kaiser
Brad Kokmeyer
James Hunt
Glenna Vanneste
Shelby Hawk
Carlton Ethtington
Al Felhauer
George Forrest

People who have "Beat Pete" so far: This week: 52; Overall: 428.
Pete's overall picks record: 76-24 (.760); Last week: 9-3 (.750).