Dexter to face Pinckney homecoming queen, Ann Arbor players make national news, Yom Kippur changes schedules and more notes
Posted on Tue, Oct 4, 2011 : 3:49 p.m.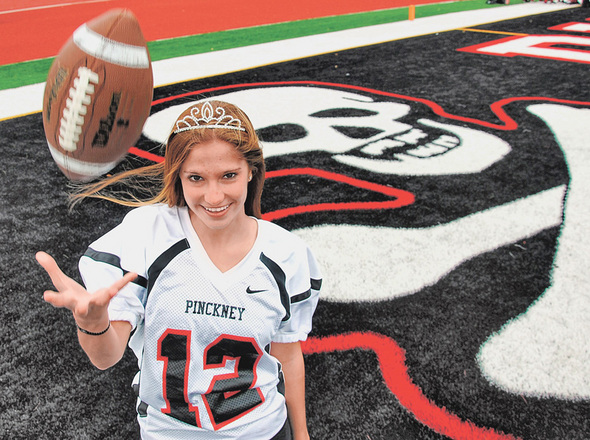 Associated Press/Daily Press & Argus
Last week, the Dexter High School football team won its homecoming game, 27-20, against Tecumseh. Perhaps it was a good sign the Dreadnaughts weren't distracted by the festivities, because they'll face a homecoming queen in Week 9.
Dexter plays Pinckney Community High School in the regular-season finale, and the Pirates have a female kicker, Brianna Amat, who was homecoming queen and hero all at once last week.
FOOTBALL TOP PERFORMERS, SEP. 30
PASSING YARDS
180 - Kareem Lovelace, Willow Run (8 of 16, 0 TDs, 1 INT)
178 - Michael Mioduszewski, Dexter (18 of 32, 2 TDs, 0 INT)
175 - Alex Hassan, Huron (13 of 28, 1 TD, 3 INTs)
161 - Reese Dils, Saline (15 of 25, 0 TDs, 0 INT)
139 - Justin Aceves, Milan (9 of 11, 0 TDs, 0 INT)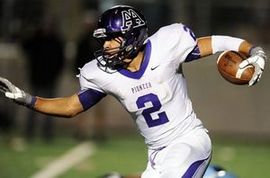 RUSHING YARDS
395 - Drake Johnson, Pioneer (22 carries, 5 TDs)
174 - Michael Mioduszewski, Dexter (20 carries, 2 TDs)
150 - NyShaun Marks, Willow Run (10 carries, 0 TDs)
150 - Nick Pauze, Gabriel Richard (27 carries, 2 TDs)
147 - Jake Hirschl, Skyline (21 carries, 3 TDs)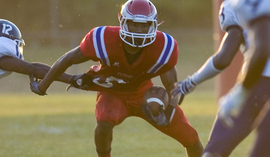 RECEIVING YARDS
130 - Tory Martinsen, Milan (8 receptions, 0 TDs)
125 - Deshawn Gohl, Willow Run (6 receptions, 0 TDs)
87 - Dorian Williams, Huron (5 receptions, 1 TD)
80 - Derek Owings, Saline (7 receptions, 0 TDs)
50 - Jay Lewis, Dexter (5 receptions, 1 TD)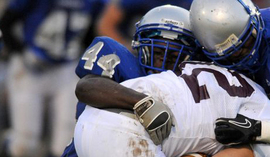 TACKLES
10 - Dejaun Hampton, Lincoln
8.5 - Maurice Young, Pioneer
8 - Christian Thomas, Lincoln
7.5 - Devin Jose, Manchester
7.5 - Eric Coval, Manchester
7.5 - Khalil Madoula-Bey, Skyline
-- Compiled by Matt Durr and Bob Gross
Friday, Amat was crowned homecoming queen at halftime of her team's game against Grand Blanc, then kicked a 31-yard field goal that proved to be the game-winner in a 9-7 win. It was the first time Pinckney had beaten Grand Blanc, losing by 35 and 24 points in the school's two previous meetings.
Amat -- also a defender on the school's girls soccer team in the spring -- went out for the football team for the first time her senior year.
Amat's story was also told Monday in The New York Times.

Ann Arbor players make national news, too
Skyline quarterback Andrew Copp and Pioneer running back Drake Johnson were responsible for a combined 951 yards and 13 touchdowns when the teams faced each other in Week 5. Copp threw for a state-record 557 yards and seven touchdowns and Johnson rushed for 394 yards and six touchdowns in the 52-49 Pioneer win.
The gaudy numbers haven't just caught the eye of local football fans and media, but of national pundits as well.
MaxPreps.com columnist Dave Krider included Copp and Johnson's games in his weekly column "National Highlight Reel," which, as the name suggests, highlights top performances from around the nation. ESPN also took notice of the performances, naming Copp the the midwest region player of the week last week.

Barnes stormer
Saline senior running back Justin Barnes didn't exactly set the world on fire with his rushing performance on Friday against Monroe, carrying the ball 11 times for 17 yards.
Much more impressive than Barnes' yards per carry average (1.55) was his carries-to-touchdown ratio of 1-to-5.7. He scored on three 1-yard runs.

Yom Kippur schedule
Ann Arbor's three public high school football teams will not play on Friday in observance of the Jewish holiday Yom Kippur. Skyline, Huron and Pioneer will all play on Thursday with 7 p.m. kickoffs.
Skyline hosts Temperance Bedford, Huron hosts Saline and Pioneer will travel to Monroe to take on the undefeated Trojans.

Washtenaw County power rankings
There was no shuffling at the very top of the power rankings again after another pair of convincing wins by Pioneer and Chelsea. Though Pioneer's 38-14 win over a good Bedford team did have me tempted to move them ahead of the Bulldogs.
It's a shame this debate can't be settled on the field this year because I, for one, would love to see Chelsea's rush defense against the area's leading rusher, Drake Johnson.
The next meeting between these two teams can not come soon enough.
Rank, School (Record), Latest result (Previous week's rank)
1. Chelsea (5-1), def. Lincoln, 20-7 (1)
2. Pioneer (4-2), def. Bedford, 38-14 (2)
3. Skyline (3-3), def. Huron, 28-12 (3)
4. Father Gabriel Richard (5-1), def. Macomb Lutheran North, 31-7 (5)
5. Saline (2-4), lost to Monroe, 35-28 (4)
6. Lincoln (4-2), lost to Chelsea, 20-7 (6)
7. Dexter (2-4), def. Tecumseh, 27-20 (9)
8. Huron (1-5), lost to Skyline, 28-12 (8)
9. Manchester (5-1), lost to Grass Lake, 47-12 (7)
10. Milan (1-5), lost to Flat Rock, 21-14 (10)
11. Willow Run (2-4), lost to Detroit Westside Christian, 36-21 (12)
12. Ypsilanti (1-5), lost to Adrian, 20-6 (11)
13. Whitmore Lake (0-6), lost to Sand Creek, 33-14 (13)

Contact Pete Cunningham at petercunnningham@annarbor.com or by phone at 734-623-2561. Follow him on Twitter @petcunningham.