Sarah Hoffman claims 4th straight Ann Arbor city golf championship in record fashion
Posted on Sun, Jun 24, 2012 : 2:52 p.m.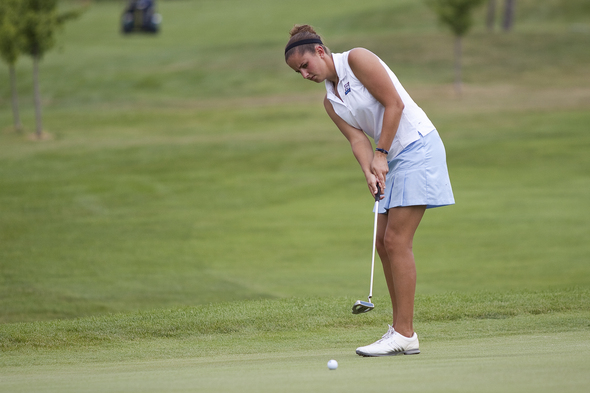 Jeffrey Smith | AnnArbor.com
Apparently a month-long break from golf was just what Saline's Sarah Hoffman needed to capture her fourth consecutive City of Ann Arbor Women's Amateur Championship.
And shoot a tournament-record, two-round score of 145 in the process.
A senior All-American at Grand Valley State, Hoffman entered Sunday's final round at Leslie Park Golf Course with an eight shot lead after shooting a 2-under-par 70 on Saturday.
"I never really felt the pressure (Sunday), she said. "(Saturday), was the first 18 holes I've played since (NCAA Division II) nationals about a month ago. I didn't really have any expectations, I just went out there and tried to have some fun."
On the front nine of Sunday's round, however, Hoffman had two double bogeys and was 5-over par after 10 holes.
"I just had a couple errant shots on the front nine that got away from me," Hoffman said.
After the less than desirable start, she found her swing on the back nine, finishing with birdies or par on the final eight holes of the tournament to finish with a 3-over-par 75 for the day.
Knowing the grounds at Leslie Park Golf Course proved to be helpful for Hoffman after the shaky start.
"It's a different mindset on whether to be aggressive off the tees or not," Hoffman said. "Knowing when to attack the course and when to hold back has helped me the past four years."
Fortunately for Hoffman, neither of her playing partners were able to capitalize on her struggles.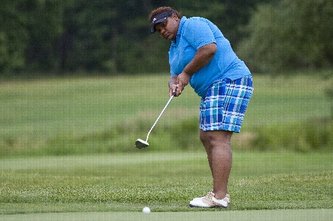 Jeffrey Smith | AnnArbor.com
Shellie Morton of Detroit and Donna Tepper of Grosse Pointe Park each had their own difficulties with the course, shooting a 10-over-par 82 and 15-over-par 87, respectively. Morton finished 15 shots behind Hoffman, shooting a 160, to take second place in the tournament.
Morton said the course was much faster than expected and that made it difficult for the golfers on their approach shots.
"Because it's been so dry the balls are bouncing and just taking off. It's really difficult, it's a lot like playing a private course," Morton said. "We had a lot of sloping putts. Once you made it to the green, it wasn't over."
Kristyn Schwarze of Chelsea finished third (81-84--165) and Tepper fourth (80-87--167). (Complete results)
Although it was her fourth city championship, Hoffman was just as pleased with this victory as her previous titles.
"It feels great. I knew I could do it, but knowing you can do it and doing it is two completely different things," she said. "It feels good knowing I handled the pressure well and played well when it counted."

Senior flight champion crowned
A second-round 86 earned Cindy Hill the senior flight championship. The Ypsilanti resident trailed by two strokes after Saturday's opening round, but beat the seven other senior contenders by at least 10 shots on Sunday.
"(Saturday) I felt like I didn't play very well," Hill said. "(Sunday) I felt like I putted and played quite a bit better."
Hill finished with a two-round total of 181. Ann Arbor's Cynthia Radcliffe entered the day as the leader, but shot a 96 in the final round to finish with a 189.
A veteran of the tournament, Hill looks forward to the annual event because of how well the tournament is run.
"I've played in it for probably the last 20 consecutive years, only missing once, and I'll continue to play," she said. "It's a nice, low-key tournament and it's fun to get out and play with other golfers from the area."