Stop in Ann Arbor vital in Michigan gymnast Syque Caesar's journey to London Olympics
Posted on Fri, Jul 20, 2012 : 5:30 a.m.
Syque Caesar's chance to fulfill a dream at the London Olympics was nearly over before it even began. A knee injury prior to the most important recruiting event for high school gymnasts nearly cut short a budding career that began when he was six years old.
That's when University of Michigan head coach Kurt Golder took a chance on Caesar at the encouragement of a coach in Florida. Despite having never seen Caesar compete in person, Golder took a flyer on Caesar and offered him a scholarship.
Today Caesar is a two-time captain at Michigan and when the Olympics open next week, Caesar will perform in front of the entire world as a representative for Bangladesh.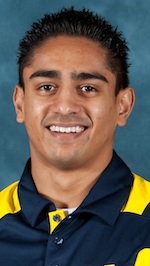 Caesar Syque
Born and raised in the United States, Caesar was granted dual citizenship allowing him to compete for Bangladesh. Both his mother and father are from Bangladesh where his father played for the national soccer team.
"It feels great. In the back of my mind, it's like I'm saying, 'I am proving myself,'" Caesar said. "I'm showing you that working hard and persevering through all the things I've been through, I'm showing you that you can do what you set out to do."
Four years ago, none of this seemed possible.
During his junior year of high school, Caesar tore his right anterior cruciate ligament (ACL), an injury that cost him a chance at competing at the Junior Olympic National Championships and a chance to be seen by top collegiate programs. Caesar returned to competition during his senior year, but was unable to return to form and missed the national championships again.
By the summer of 2008, after missing the top competition from which college gymnasts are recruited two years in a row, Caesar prepared to attend the University of Florida on an academic scholarship.
"I didn't have the resources available to me to really get back to where I was and aggressively come back from treatment and rehab," Caesar said.
Having missed that chance to get his name noticed, Caesar was preparing for a less-than-ideal continuation to his career. While attending school in his home state of Florida, he planned to train at the local club gym in Gainsville where a future Michigan teammate once trained.
"The plan was to go there while attending UF, but I can honestly say that I don't think that I would have followed through," Caesar said. "None of this would have happened."
Caesar applied to Michigan, but suffered another setback as he was denied admission. Fortunately for Caesar, a former coach of his, John Hallett, reached out to Golder and informed him that Caesar was worth looking at.
"I saw Kurt Golder at national championships and I told him Syque applied there," said Hallett, the former chair of gymnastics in Florida. "I said 'this kid has never had anybody to workout with. He could definitely compete for you on floor and vault and parallel bars.'
"I've never seen anybody who had a passion for the sport like he did. His determination and drive has exceeded at all those expectations."
Soon, Golder was making his pitch.
"If that coach hadn't approached me about him, he probably would have gone somewhere else," Golder said.
Because he was not recruited in high school, Caesar didn't have any timely highlight videos that could showcase his skills. All he had were homemade videos, set to music not exactly appropriate for a college admissions pitch.
"I had a couple YouTube videos from back when I was 14-15 years old. They were really cheesy, they had music and cheesy transitions, but it had my gymnastics on it," Caesar said with a smile.
Despite the video's production value, or lackthereof, Golder saw something that intrigued him and offered Caesar a scholarship.
"The more I found out about him, what his potential was, I gave him a scholarship and then he got admitted. Now here he is a captain of the team," Golder said.
Even though he was already enrolled at Florida, Caesar and his parents agreed that it was a chance he couldn't pass up, which was reinforced as soon as he arrived in Ann Arbor.
Photo courtesy of University of Michigan Athletics
"I remember walking through the gym and I was blown away. I was blown away at the level of gymnastics and how high the level of expectations and the standard was," Caesar said. "I couldn't believe he thinks that I'm capable of being here. It really inspired me to become a better gymnast."
Golder made sure his new recruit was aware of the expectations
"My first impression wasn't good. He didn't train real hard that summer and he was out of shape," Golder said. "He was thinking there was something wrong with him, and I knew there wasn't. He gradually got in shape and he's improved tremendously since he's been here."
That improvement can be attributed to assistant coach Geoff Corrigan. A former All-American at Michigan, Corrigan has worked with Caesar since 2008 and will accompany him to London for the games.
With the biggest competition of his life on the horizon, Caesar, with Corrigan's guidance has tried to keep things as normal as possible while preparing for the different events. While he will compete in all six events for the team portion, the floor routine and parallel bars are his two strongest individual events.
"The last six weeks, we've tried to prepare like any other competition we go to. We try to keep it calm and try not to think about it," said Corrigan. "I feel like if he can do that, keep himself calm, he's got the best chance to do well."
Caesar is no stranger to international competition. He became the first Bangladeshi gymnast ever to earn a gold medal when he won on the parallel bars in the 2011 Central South Asian Artistic Gymnastics Championships.
With the men's competition set to open on July 28, Caesar is prepared to represent his family's homeland.
"I feel ready to go. Last week was the really tough week, the grind week, but I got through it," Caesar said. "It's mostly about being mentally prepared and then the physical part will come leading up to the Olympics."
Corrigan will accompany Golder to London as his coach, while Caesar's roommate and teammate Sam Mikulak will also be in London, with Golder accompanying him.
While technically competing against one another, all four will be representing their university with pride.
"Two Olympians from one house, we're both from Michigan, it doesn't even sound real," Caesar said.
"I honestly can say that if I had not come to Michigan, I don't think I would be going to the Olympics," Caesar said. "I really have to give all of my thanks to coming here and taking that risk.
"It's just awesome. I bleed maize and blue. As much as I am representing the country, I'm also representing Michigan."
Contact Matt Durr at mattdurr@annarbor.com.