Olympic update:

Ex-Michigan rower Sarah Trowbridge makes good on second chance for medal; Ex-Wolverines swimmers advance to relay final

Posted on Tue, Jul 31, 2012 : 12:15 p.m.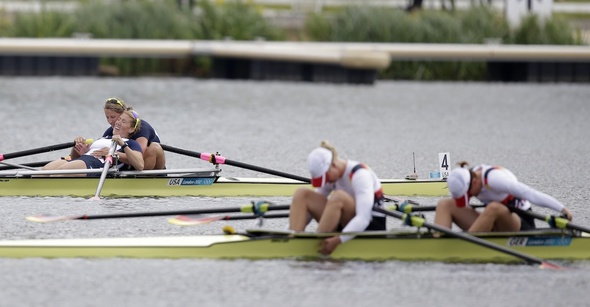 Natacha Pisarenko | Associated Press

Former University of Michigan rower Sarah Trowbridge took advantage of a second chance on Monday and kept her medal hopes at the London Olympics alive and well.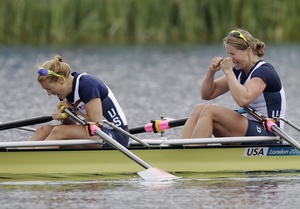 Natacha Pisarenko | Associated Press
Competing in the women's double skulls with partner Margot Shumway, Trowbridge dropped into Tuesday's repechage heat after a
third place finish
in Monday's qualifying heat. Only heat winners and runners-up from the qualifying rounds advance to the medal heat, but with only four heats, the two final spots were up for grabs in Tuesday's repechage, which consisted of the top six times from the qualifying heats that didn't finish in first.
Trowbridge and Shumway advanced to final heat after a second place, seven minutes, 10.37 seconds finish. The pair edged the Czech Republic team for the final spot by just 1.31 seconds. The Chinese team of Min Wang and Zhu Wewei beat the Americans by less than a second for the top spot.
Trowbridge and Shumway will go for gold at 5:30 a.m. Friday.

SWIMMING DOMINANCE
The U.S. men's swimming 800 freestyle relay team, featuring former Michigan swimmers Charlie Houchin and Davis Tarwater, posted the top time in the semifinal heat early Monday morning.
Houchin led off the race with a 1:48.22 split, which gave the Americans a .01-second edge. Tarwater swam the third leg and stretched the lead from less than a second to 2.43 seconds, or roughly two body lengths.
The team will go for gold Tuesday at 3:47 p.m. Michael Phelps and Ryan Lochte are expected to be on the U.S. team for the final.
The Associated Press contributed to this report.