Dexter native Andrew Sinelli off to strong start in second season at Michigan
Posted on Fri, Oct 26, 2012 : 5:50 a.m.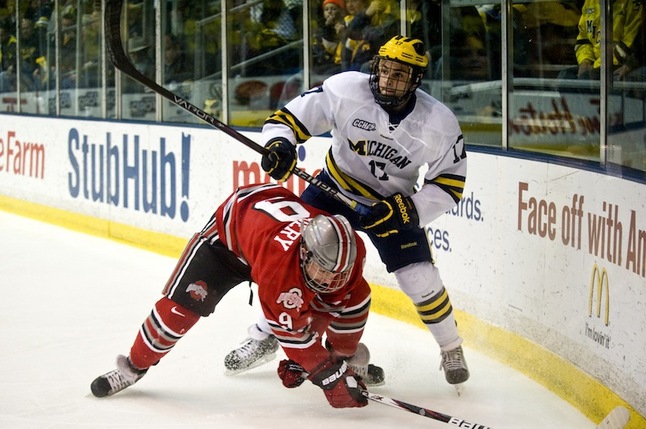 Melanie Maxwell | AnnArbor.com
Most athletes spend their high school careers playing in front of hometown crowds, then leave home when they move on to college.
Andrew Sinelli's career has been the opposite.
The Dexter native spent his last two high school years in the United States Hockey League playing for three different teams (Sioux City Musketeers, Dubuque Fighting Saints and Youngstown Phantoms) in two states (Iowa and Ohio).
But now, he's back near home as a sophomore forward for the Michigan hockey team -- and his family finally has a chance to watch him on a regular basis.
"It's definitely good," Sinelli said. "My parents haven't missed a home game, even when I'm not playing, they're always here. It's nice to have some family support."
The family saw him score first collegiate goal in Michigan's second game of the year, a 7-2 win over Rochester Institute of Technology on Oct. 12.
Sinelli hopes the early goal will be a harbinger of a strong sophomore season.
"I think you're just a lot more comfortable and a lot more confident," Sinelli said of his second year. "You know what to expect from games and you know how to prepare a lot better. You're expecting the best competition, night in and night out."
Michigan (2-1) will begin its CCHA slate against Miami (Ohio) (3-0-1) Friday and Saturday at Yost Ice Arena.
There, Sinelli will hope to continue what's been a strong start to the season. After being added to the lineup in the second game against RIT, he earned another game last week against Bentley.
"He's coming off a good game against RIT, and we put that maroon line back in the lineup and they played pretty well the other night," Michigan coach Red Berenson said.
Sinelli had a strong start to his freshman campaign, too, before a groin injury kept him out of the lineup for six weeks. He ended up playing in only 11 games, tallying two assists.
"The team kind of took off without him, and he was way behind," Berenson said. "He never really got caught up. This year, he's off to a better start. Hopefully he can get his chances and take advantage of them."
The Wolverines will spend the weekend facing a Miami team that has 13 new players, including 11 freshmen. But Berenson said despite the new faces, he expects a similar looking team from the RedHawks.
"I know their coaching staff, I know how they coach, I know how they coach, and I know how we expect their team to play," Berenson said. "They're hard to play against, they're physical, they're hard-working."