In brief:

Ann Arbor man receives National College Baseball Hall of Fame award and more community sports briefs

Posted on Thu, Sep 13, 2012 : 2:30 p.m.
Some people fish on the weekends. Others golf. For 35 years, Ann Arbor's Richard Fetchiet has umpired.
The difference between most people's weekend hobbies and Fetchiet's is that most don't rise to a hall of fame level.
Or get to travel the world on someone else's dime.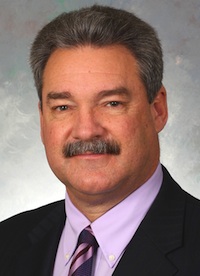 Fetchiet received the National Collegiate Umpire Award, typically given as a lifetime achievement award, by the
National College Baseball Hall of Fame
.
Fetchiet, 57, who has lived in Ann Arbor for the past 25 years, has worked exclusively in the amateur ranks in his umpiring career. That career began as unassumingly as most forays behind the plate do: Making a little extra cash during the summer as a teenager.
Fetchiet steadily moved up through the ranks through the years and through his career umpired three College World Series and several international tournaments, including the 2000 Sydney Olympics.
Fetchiet said the only real difference between umpiring at top international tournaments and American college games was, "In the Olympics and international tournaments, we get yelled at in eight different languages."
Fetchiet's, "real job" - as he calls it - is as director of alumni relations, development and continuing dental education for the University of Michigan School of Dentistry. While umpiring has been a great way to make some money on the side, it hasn't been his main source of income since he was a teenager.
He said his motivation to stay in the game has never been monetary.
"You could not have made a living (umpiring exclusively). And the international high profile tournaments, outside of getting to travel, were not big money makers," Fetchiet said. "I enjoyed it more for the challenge, and getting to travel all over the world was nice. Certainly not the remuneration."
Umpiring the 2000 Olympics was basically the beginning of the end of Fetchiet's time behind the plate and for the past ten years or so he's been more involved administratively in baseball. Fetchiet is currently the supervisor of Collegiate Baseball Umpires Alliance and is coordinator of umpires for the eight college conferences, including the Big Ten and Big 12.
Fetchiet said he enjoys affording people getting into college umpiring the same opportunities he's enjoyed.
"Now that I'm off the field I'm focused on making those same opportunities available to others," Fetchiet said.
Huron football team to honor wounded veterans on Friday
In an effort to recognize and honor American veterans, the Huron High School football team will wear camouflage jerseys in its game on Friday against Temperance Bedford at Riverbank Stadium. Service members will be honored throughout the game and money will raised to support the Wounded Warrior Project.
Both Huron and Bedford players will wear donated camouflage jerseys for the game which will be sold after the game with all proceeds to be donated to the Wounded Warrior Project.
Pioneer alumnus collecting shoes for basketball camps in Africa
Pioneer High School graduate Casey Stockton will soon leave for Rwanda for a ten-month program where he will work with charities, orphanages and churches to hold basketball camps and build courts while teaching the ideals of education health and fitness, disease prevention and gender equality.
But before he leaves he's looking for help from the Ann Arbor community. Stockton hopes to bring 200 pairs of basketball shoes with him on his trip for the kids at the camps to wear. There is a collection bin outside of the Ann Arbor YMCA, 400 West Washington Street, and as of Sunday, Sept. 9, 59 pairs of shoes had been collected.
The collection bin will remain open until Tuesday, Sept. 18. Click here for information on how to donate to Stockton's charitable efforts.
Dexter youth soccer team wins Lansing tournament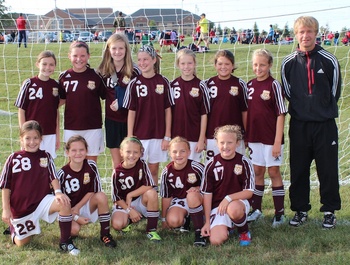 Photo courtesy of Jill Boydston
The Dexter Soccer Club's under-11 girls team (picture on right) made it to the finals in the 25th annual Capital Area Classic in Lansing on September 9. The team lost in the final to finish runner-up.
The team is coached by Johno Heslop.
Milan alumnus Lindsey Lammers wins fourth college golf tourney in five outings
Milan High School graduate Lindsey Lammers took home medalist honors for the University of Detroit Mercy golf team at the Detroit Titans Fall Classic over the weekend. It was Lammers' fourth win in her last five events dating back to last season.
Lammers, a junior at UDM and former AnnArbor.com Washtenaw County girls golf player of the year, shot three under par in the two day tournament.
Ypsilanti woman shoots hole-in-one
Rose Cook shot a hole-in-one at Green Oaks Golf Course in Ypsilanti on Monday, Sept. 10. Cook aced hole No. 15, a 122-yard par-3 with her 6-iron. It was her first ever hole-in-one. She shot a 42 for the 9-hole round.
To have your community sports news included, email sports@annarbor.com.