Coaches say Michigan-Ohio State game has little effect on recruits
Posted on Tue, Nov 17, 2009 : 2:56 p.m.
Michigan will host its biggest recruiting weekend of the year for Saturday's Ohio State game, but coaches Rich Rodriguez and Jim Tressel agree what happens on the field probably won't sway any decisions.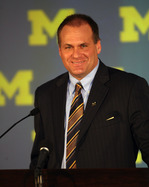 "I think it's natural to feel that it would, but I don't know if it makes that big of an impact," Rodriguez said. "Obviously, you want to be able to sell success and those things, but I think more than anything you're selling your university and all the things that the school's about, their role, their role in the system and how they fit."
Rodriguez said recruits have been receptive to his program despite back-to-back poor seasons and five straight losses to Ohio State.
Punter Will Hagerup committed to Michigan over OSU earlier this fall, and Pittsburgh Penn Hills cornerback Cullen Christian is one of a number of recruits who'll take an official visit to Ann Arbor this week.
Christian is set to decide next week between Michigan, West Virginia, UCLA and Ohio State.
California safety Tony Jefferson, Florida cornerback Tony Grimes and already-committed linebacker Marvin Robinson are among others expected on campus.
"All players want to go where they have a chance to have success and what we're telling our guys now in recruiting is that we're in a process so we're going to be there and they can help us get there," Rodriguez said. "I think that opportunity is maybe helping us in recruiting because a lot of young men are looking at, 'Hey, I've got an opportunity to go to a great place and help them get to where they want to win championships.'"
Tressel acknowledged that Michigan could get a recruiting boost with a win Saturday, but said players don't "sit around waiting to see who won a game to decide where they go."
"I'm not sure that wins and losses and all that stuff have as high an impact with kids as the comfort levels and sometimes proximity, sometimes opportunity to play," he said. "But it's one of the things that you certainly would rather be victorious in your games than not."