Change of schedule for Betsey Armstrong, U.S. women's water polo
Posted on Sat, Aug 4, 2012 : 12:36 p.m.
For those tracking Huron High School and University of Michigan graduate Betsey Armstrong in the Summer Olympics: An update to your schedule.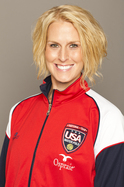 U.S. Water Polo

The U.S. women's water polo team's quarterfinal match against Italy on Sunday has been moved from 9:40 a.m. to 2 p.m. EST (that's 7 p.m. in London).

The game will air live on NBC.

After three preliminary-round games, the Olympic format now turns to an eight-team, single-elimination tournament.

"The nice thing about playing the quarterfinal now is you know that it's do or die, and you know you don't have tomorrow," U.S. coach Adam Krikorian said after 7-6 win over China on Friday. "So this team typically plays a little better when they're faced with a little pressure, a little adversity, and I'm excited to see what we can do in two days."

The Americans wrapped up the preliminary round unbeaten (2-0-1), but finished second in Group A behind Spain based on a tiebreaker. Italy finished third in Group B.

The U.S. has played Italy twice this year, winning both matches by a combined score of 32-12.

The Associated Press contributed to this report.