Bronze medal for former U-M swimmer Peter Vanderkaay, Michael Phelps misses first medal bid
Posted on Sat, Jul 28, 2012 : 6:39 p.m.
Former University of Michigan swimmer Peter Vanderkaay added a fourth Olympic medal to his collection on Saturday.
His bronze medal in a star-studded 400-meter freestyle makes him the most decorated Michigan graduate in program history, according to MGoBlue.com. He was previously tied with three-time medalist Tom Dolan.
Vanderkaay won a bronze in the 200 freestyle in 2008 and was part of gold medal-winning 800 freestyle teams in 2004 and 2008.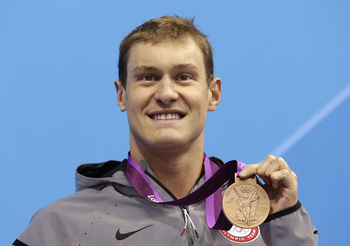 Associated Press
The 400 freestyle was one of two men's swimming finals held Saturday in London. The other -- the 400 individual medley -- ended with former Club Wolverine swimmer
Michael Phelps
being left off the medal stand.
On a stunner of an opening night at the pool in London, Phelps was routed by his American rival Ryan Lochte by more than 4 seconds. The winningest Olympian ever didn't win any medal at all, the first time that's happened in a race of this magnitude since he was a 15-year-old kid competing in just one event at the Sydney Games, a dozen years ago.
"It was horrible," Phelps told his coach, former Michigan coach Bob Bowman, when he climbed out.
Bowman's reply: "It was."
Lochte turned the much-anticipated duel with Phelps into a blowout, raising serious questions about whether the guy who has won 14 gold medals and 16 medals overall has anything left in the tank for his Olympic farewell.
LOCAL OLYMPIANS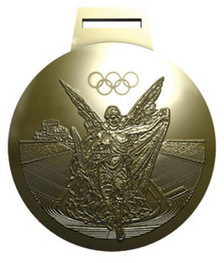 Visit the AnnArbor.com
Olympics page
for stories on Olympians with Ann Arbor-area ties. Follow along with Michigan athletes at
MLive.com/Olympics
.
Phelps is planning to retire as soon as he finishes the last of his seven races in London, but he looked ready to call it a career while struggling just to pull himself from the water when his first event was done.
He was totally spent.
He was thoroughly beaten, perhaps signaling a changing of the guard at the pool.
"This is my year," said Lochte, who popped in his grillz — diamond-studded mouth jewelry — for the victory ceremony. "I know it and I feel it, because I've put in hard work. I've trained my butt off for four years ... and there's no better way to start this Olympics off than getting gold."
Vanderkaay finished third behind Sun Yang of China and defending champion Park Tae-hwan of South Korea. Park was disqualified for a false start following morning preliminaries, but was reinstated after an appeal.
Canton High School graduate and former Club Wolverine age group swimmer Allison Schmitt was part of the U.S. women's team's bronze medal finish in the 400 freestyle relay.
Australia captured gold with an Olympic record of 3:33.15, rallying to pass the Americans -- who took an early lead with Missy Franklin swimming leadoff under world-record pace -- and hold off the fast-charging Netherlands.
"Proud to be an American!!!" Schmitt tweeted after the race. "Huge congratulations to all the swimmers tonight!! So exciting starting the meet off with a bronze & (American) record."

ROWING
Former Michigan club rower Tom Peszek and his partner, Silas Stafford, finished fourth in a four-team heat in the men's pair event. The American boat will race against Hungary, Germany and Serbia on Monday with the top three boats advancing to the semifinal round.

WOMEN'S BASKETBALL
Former Michigan basketball player Krista Phillips finished with four points and three rebounds before fouling out during Canada's 58-53 loss to Russia in pool play.
The Associated Press contributed to this report.