Michigan 5, Michigan State 0:

Record crowd sees Jon Merrill, Carl Hagelin score twice for Michigan

Posted on Sat, Dec 11, 2010 : 2:38 p.m.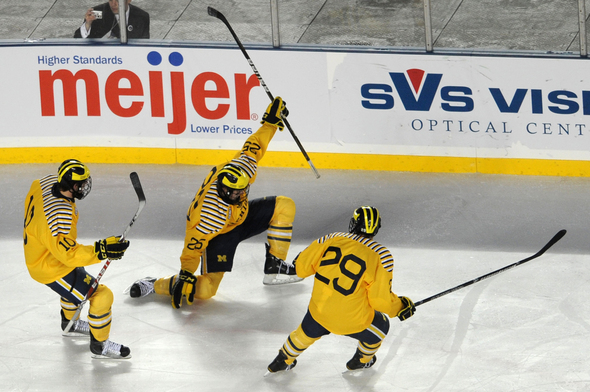 Melanie Maxwell | AnnArbor.com
The largest crowd to see an NCAA event of any kind showed up at Michigan Stadium Saturday, and the Michigan hockey team enjoyed a 5-0 victory against Michigan State in the Big Chill at the Big House.
The announced attendance was a world-record 113,411, more than any Michigan football game. The fans cheered the pre-game fireworks, each Michigan goal and most stayed for the post-game fireworks.
Freshman defenseman Jon Merrill and senior left wing Carl Hagelin both scored twice as the Wolverines (10-5-4, 9-3-1-0 CCHA) scored three power-play goals. It's the seventh time Hagelin has scored at least two goals in a game.
Michigan goalie Shawn Hunwick, starting in place of Bryan Hogan - who pulled a groin muscle in pregame warmups - stopped 34 shots for his second career shutout.
Stars of the game: No. 3: Matt Rust, who had three assists. No. 2: Carl Hagelin, who had two goals and an assist. No. 1: Jon Merrill.
Third period Michigan 5, Michigan State 0: Junior left wing David Wohlberg scored on a rebound off Brandon Burlon's shot. It's Wohlberg's eighth goal of the season and came at 10:45 of the period.
Michigan 4, Michigan State 0: Carl Hagelin scored his second power-play goal of the game and Michigan's third power-play goal of the day. Matt Rust and Chad Langlais assisted.
Second period Michigan 3, Michigan State 0: Senior left wing Carl Hagelin scored a power-play goal at 12:12. It's his eighth of the season. Matt Rust and Brandon Burlon assisted.
First period Michigan 2, Michigan State 0: Jon Merrill scored his second goal at 14.54 of the first period. Matt Rust and Carl Hagelin assisted.
Michigan 1, Michigan State 0: Freshman defenseman Jon Merrill scored 16 seconds into a power play and at 12:04 of the first period. It's his fourth goal of the season. Chad Langlais and Ben Winnett assisted on the goal.
Pregame Bundle up - although it's not that cold today - and keep track of the Big Chill at the Big House action at Michigan Stadium with our coverage today of a world record crowd of about 109,000 for a hockey game.
The Michigan State at Michigan hockey game begins at 3 p.m. (Fox Sports Detroit), and we'll update this file throughout the game.
Join our live chat: Michael Rothstein and Rich Rezler lead the conversation
Our mega guide to the Big Chill: Extensive coverage includes stories, videos and slideshows