Betsey Armstrong, U.S. water polo team reach Olympic semifinals
Posted on Sun, Aug 5, 2012 : 4:27 p.m.
Associated Press
Ann Arbor native Betsey Armstrong made 13 saves to lead the United States women's water polo team to a 9-6 win over Italy in an Olympic quarterfinal match on Sunday.
Italy capitalized on an American penalty in the first 15 seconds of the game on its way to a quick 2-0 lead. From there, goals were at a premium for the Italians at the Water Polo Arena in London.
The U.S. led 6-3 by halftime and Italy wouldn't get within two goals in the second half.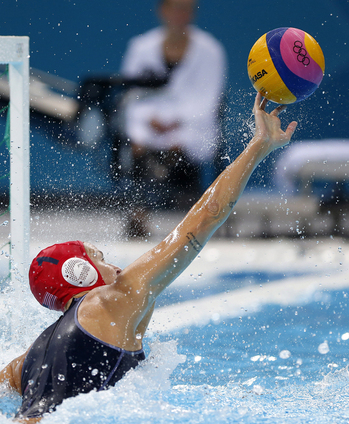 Associated Press
"Betsey was a wall in goal," U.S. defender
Maggie Steffens
told USA Water Polo. "To know you have that behind you is amazing."
Armstrong, a Huron High School and University of Michigan graduate, shifted the credit to the defense played in front of her.
"My defense was tight and I did really well because of them, they set it up for me," she said. "We were great. We were tight everywhere as a team. It was a lot of fun."
Melissa Seidemann scored three goals and Brenda Villa and Kelly Rulon each scored twice for the U.S., which faces a semifinal showdown with fellow gold medal favorite Australia on Tuesday.
The Aussies beat China in a high-scoring match, 20-18.
"They are the most talented team here," U.S. coach Adam Krikorian said of Australia. "They are big, strong physically, swim fast, shoot well, good goalies, they don't have any weaknesses."

Quarterfinal results
Hungary 11, Russia 10
Australia 20, China 18
United States 9, Italy 6
Spain 9, Britain 7

Tuesday's schedule
Classification: Italy vs. China, TBA Classification: Russia vs. Britain, TBA Semifinal: United States vs. Australia, TBA Semifinal: Hungary vs. Spain, TBA
Thursday's schedule:
Seventh Place, 9:30 a.m.
Fifth Place, 10:50 a.m.
Bronze Medal, 1:40 p.m.
Gold Medal, 3 p.m.

The Associated Press contributed to this report.