Allison Schmitt wins 2nd gold medal, Tyler Clary top seed in 200 backstroke final
Posted on Wed, Aug 1, 2012 : 5:08 p.m.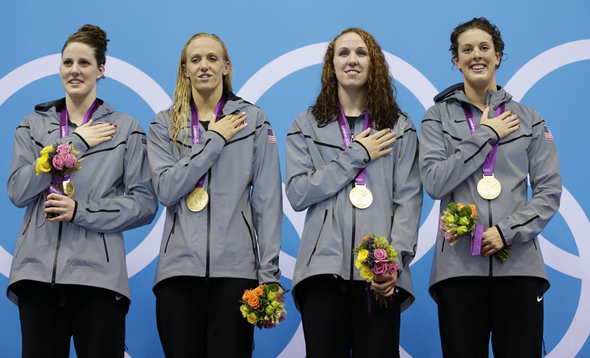 Associated Press
Make it two gold medals in two days for Canton High School graduate Allison Schmitt.
Schmitt, who set an Olympic record in winning the gold in the 200-meter freestyle on Tuesday, swam the anchor leg of the U.S. team's winning 4x200 freestyle relay Wednesday in London.
She chased down Australia's Alicia Coutts to earn the Americans gold, diving in the water about a half-second behind, but passing Coutts on their first return lap to win going away in 7:42.92.
The Australians settled for another silver in 7:44.41, while France took the bronze.
Schmitt is turning into one of the biggest American stars of the Games, picking up her second gold to go along with a silver and a bronze.
Seventeen-year-old Missy Franklin also picked up her second gold swimming the leadoff leg, and Dana Vollmer claimed her second gold in London. Shannon Vreeland rounded out the gold medal-winning quartet.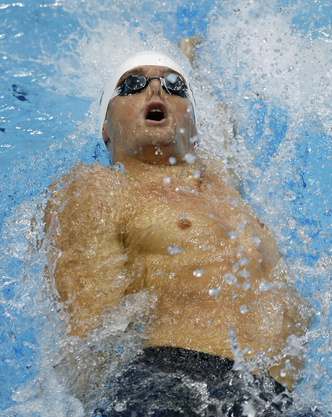 Associated Press
Earlier in the day, former University of Michigan swimmer
Tyler Clary
had the fastest time in both the 200 backstroke preliminary and semifinal rounds.
Clary had finished second to Ryan Lochte at the event during the U.S. Olympic trials, but recorded better times than his American teammate on Wednesday.
Lochte also competed in the 200 individual medley prelims and semifinals -- on of his toughest days in London. He had the fastest time in the IM (1:56.13), ahead of Hungary's Laszlo Cseh (1:56.74) and Michael Phelps (1:57.11), who one night earlier became the most decorated Olympian ever with his 19th medal.
Clary swam a 1:56.24 in 200 backstroke prelims and 1:54.71 in his semifinal.
Derya Buyukuncu, who swam at Michigan in 1995-98, represented Turkey in the 200 backstroke. Swimming in his sixth Olympics -- a record for a former Michigan athlete, according to MGoBlue.com -- Buyukuncu failed to advance from the preliminary round.
The final is scheduled for 2:48 p.m. on Thursday.
More Olympic results
Former Michigan club rower Tom Peszek and his partner, Silas Stafford, were eliminated from medal contention in men's pair on Wednesday.
Former Michigan women's basketball player Krista Phillips had four points and a game-high seven rebounds in Canada's 64-60 loss to France.
The Associated Press contributed to this report.