Posted on
Tue, Aug 14, 2012 : 7:46 p.m.
Olympic gold medalist and former Club Wolverine swimmer Allison Schmitt receives hero's welcome home
By Matt Durr
Dan Brenner | AnnArbor.com
CANTON -- A frenzied crowd of family, friends and supporters gathered Tuesday to welcome home 2012 Olympic gold medalist swimmer,
Allison Schmitt
. Hundreds of supports showed up with red, white and blue signs and banners welcoming Schmitt who arrived via police escort to the Canton Community Hometown Olympic Celebration held at the
Heritage Park Amphitheater
.
Fresh off an Olympic performance that saw her captivate the nation and bring home five medals (three gold, one silver and one bronze), Schmitt -- who went to Canton High School but trained in Ann Arbor as a youth and throughout high school -- was anxious to get home to the people that supported her from the beginning.
"I've been excited to come home for a while now. I haven't been home since Christmas," Schmitt said. "Just being able to come home, this is my favorite place to be. It's very welcoming place, I feel comfortable here and I love being here.
"With the fans, supporters and friends that are around this town, it's a great atmosphere to be in."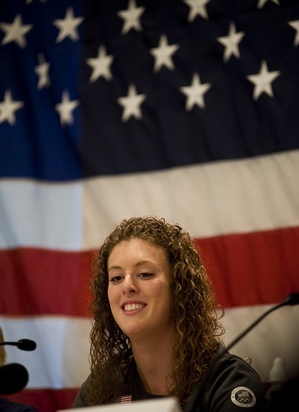 Dan Brenner | AnnArbor.com
Schmitt wowed viewers with her performances in London where she won both individual and team medals. Schmitt set an Olympic record in the 200-meter freestyle with her time of one minute, 53.61 seconds. Schmitt was the anchor leg of the Olympic record-setting 4X200 meter freestyle team and swam the freestyle leg of the world-record setting 4X100 meter medley team. She took silver in the 400-meter freestyle and bronze as part of the 4X100 meter freestyle team.
"It hasn't sunk in. Tomorrow I'm going to have time to relax and it will be the first day to relax since everything has been over. I'm excited for it. It definitely hadn't sunk in when I stood up and heard the national anthem," Schmitt said.
Over the past decade, Schmitt has become one of the fastest freestyle swimmers in the world. The beginning of that journey began with the Plymouth/Canton Cruisers. Eventually she started swimming with the Ann Arbor Swim Club, which eventually merged with Club Wolverine.
"All three of those clubs helped me get to where I am today. I'm thankful for all the coaches I had," Schmitt said. "I'm willing to go back and thank them and help them out in any way I can."
Although she trained in Ann Arbor, Schmitt still attended school in Canton. Making the trip back-and-forth trip each day was sometimes difficult, a sacrifice her parents were willing to make.
"At times it was very hectic, but we made the commitment to try what they wanted to try and the only requirements were that whatever they started they finished and that they gave all that they had," said Ralph Schmitt, Allison's father.
"The support that they've given me the past 22 years, giving me opportunities to even be a swimmer, is something that I can't thank them enough," Allison said. "Winning a gold medal is not only me, it's all my support system. Having them there and watching me has been a blessing."
It was during her time at Club Wolverine that Schmitt began training with fellow Olympian Michael Phelps and his coach Bob Bowman. Through Bowman, she further developed skills and eventually became an Olympian in 2008.
While she had only been out of high school for a couple months, Schmitt trained with Bowman and Phelps in Baltimore to prepare for the Beijing Olympics. Schmitt was a part of the 4X200 freestyle relay team that took bronze in 2008.
Having worked next to Phelps for so long, Schmitt said that she was more nervous to watch him race in London than for her own races.
"He's a great friend, he is like a brother to me. I think that I see him more as a person and as a brother more than I see him as the most decorated Olympic swimmer," Schmitt said. "I was able to watch his 200-IM from the stands. I literally jumped over the seats cheering for him."
Schmitt's time back home will be short-lived as she is set to return to the University of Georgia on Thursday where she will be a senior in the fall, studying psychology. Schmitt has one year of college eligibility remaining and said she'll retain her amateur status.
Schmitt said she plans to continue to swim with the idea of competing in the 2016 Olympics in Rio De Janeiro, Brazil.
"I'm definitely thinking about Rio. I am planning on swimming for four more years. I had a great Olympics this past summer, it was a lot of fun and I want to repeat it."
Matt Durr covers sports for AnnArbor.com.