Pets:

Tired, sleepy, pooped pets will be featured on this week's Pet Photo Friday

Posted on Wed, Aug 8, 2012 : 6 a.m.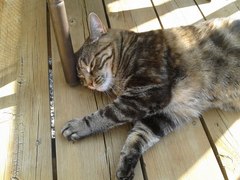 Lorrie Shaw | Contributor
Knowing that there are many fun-loving pets living in and outside of our area, we're anxious to see what they've been up to. Why not submit a favorite photo of your pet?
Since we're in the dog days of summer here in the Ann Arbor area, we thought that starting last week, it would be fun to do a special feature to reflect that. With the heat and endless sun that we've had this season, it can make pets and their humans feel they are always under siege by the sandman.
We would love to see your photos of your pets snoozing with or without their favorite fellow animals — or their humans.
Any pet or animal in the family is welcome in the slideshow we feature each Friday.
In continuing our Friday Pet Photo series featuring sleepy pets, we invite you to email a photo of your companion animal to ppsa2mi@gmail.com, any time during the week.
Participating in this fun feature is easy — simply include your companion animal's name, age and city or township of residence in your email. Be sure that your photos are 1200 pixels wide and in .jpg format.
We put the week's photos into a slideshow, publish it and promote it each Friday here in the Pets section. Check out past slideshows here.