Pets:

Show us how your pets stay cool this week on Pet Photo Friday

Posted on Wed, Jul 4, 2012 : 6 a.m.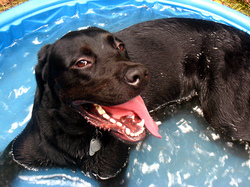 flickr photo by rharrison

Pets have been feeling the effects of hot temperatures over the past couple of weeks, and some of their humans have been finding ways for them to stay cool and comfortable: Sprinklers, pupsicles, swimming — even their own doggie pool to splash around in.

Knowing that there are many fun-loving pets living in and around our area, we're anxious to see what they've been up to recently to cool off. Why not submit a favorite photo of your dog, cat, horse or another beloved pet?

In continuing our ongoing Friday Pet Photos feature, we invite you to email a photo of your companion animal to ppsa2mi@gmail.com, any time during the week.

Participating in this fun feature is easy — simply include your companion animal's name, age and city or township of residence in your email, and a little anecdote about your pet. Be sure that your photos are 1200 pixels wide and in .jpg format.

We put the week's photos into a slideshow, publish it and promote it each Friday here in the Pets section. Check out past slideshows here.