Posted on
Thu, May 2, 2013 : 6 a.m.
Scat-tracking dog teams aid conservationists in protecting endangered species
By Lorrie Shaw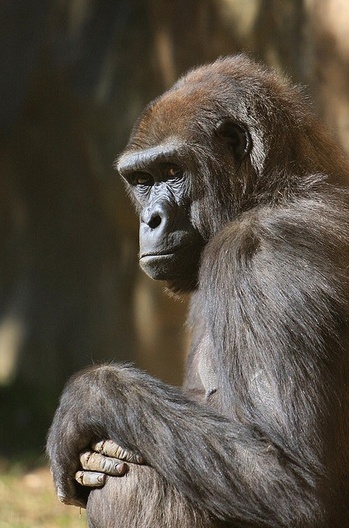 Flickr photo by Velo Steve
There has always been a lot of talk about a canine's sense of smell, and that skill has landed them some of the most unique jobs know to exist. They sniff out drugs, bombs and other explosives, humans — even
truffles
.
But this built-in ability has a small group of dogs doing work that you might find even more unusual: they're helping endangered species.
A team of nine dogs of varying breeds are part of a nonprofit group called Working Dogs for Conservation, and many of them came from shelters. The handlers — with whom the dogs live — trained their furry friends to help conserve these threatened species.
So what does a dog's sense of smell have to do with protecting wildlife?
It's all about poop. Yes, the canines sniff out and locate the waste from creatures that conservationists are trying to keep track of and help.
"Scat is a gold mine of information," says Megan Parker, one of the co-founders of Working Dogs for Conservation.
"People see and hear the world. But dogs are really good at this because they smell the world."
Not only can locating and mapping out where the waste is found be helpful (that can establish an animal's home range), but samples can yield DNA. That can help establish the sex of animals as well as bloodlines. Stool can also be used to evaluate what an animal is eating, check for diseases and even monitor hormone levels.
Traditionally, an animal would need to be hunted, trapped or tagged to help conservationists do their job. By honing in on what the stools yield, the creatures never need to be disturbed.
Parker and her dog, Pepin, a 7-year-old Belgian Malinois, have worked together to track kit foxes in California, gorillas in Africa and more.
Pepin knows several targets: invasive snails, invasive and endangered plant species, scat, and others.
The training that the handlers employ was borrowed from training techniques used detection in law enforcement, and modified them for the work that the dogs of WDC would use.
A dog can become proficient in learning a new target in about four weeks.
The training is ongoing between handler and canine — it keeps their skills sharp, and the bond that the pair have established, deeply cemented. That helps foster good communication between human and dog. That's essential when tracking in the field.
It seems there are few limits to what these dogs can be trained to track.
Pepin has a new target under his belt: snares. These are made from coiled wire and are used by poachers to trap unsuspecting wild animals.
Pepin and Parker are expected to travel back to Africa soon, and this time they'll see if they can work together to reveal any snares.
So far, the dogs of WDC have demonstrated they are able to find samples quickly and more accurately than other methods, and it's more cost-effective than using equipment and manpower to locate, trap and tag a wild animal — not to mention that the animal need not to be handled or stressed out.
So far, the dogs have worked on 38 projects in 11 countries.
Click here to read more on how Pepin and other dogs are trained, and how government agencies and universities are utilizing this emerging field to help their programs as well.
Lorrie Shaw leads the pets section for AnnArbor.com and is owner of Professional Pet Sitting. Shoot her an email, contact her at 734-904-7279 or follow her adventures on Twitter.