Rescued or re-skewed? Establishing secure homes for dogs is a hefty challenge
Posted on Tue, Oct 12, 2010 : 9:40 a.m.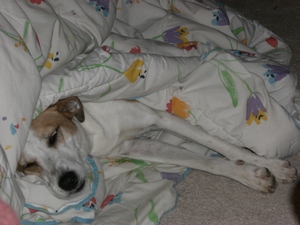 Photo by Liz Spieser

Several years ago, on a sunny spring afternoon, I found myself tooling down US-23 south toward Milan. I was on my way to evaluate a dog for a prospective client. I didn't know much about the situation except that there had been a dogfight between dogs she owned. She had gone out to work for a while and had come home to a bloodbath. Apparently two dogs who were not supposed to have access to each other had broken through barriers and gotten into a vicious altercation.




As I drove, relishing the spring vibe, I contemplated what may be the root of the issue. Had these dogs been living together for a while and developed some sort of sibling rivalry? Was this a resource issue? Did an unsuccessful introduction between dogs result in a polarized energy? Hmm...

I arrived at a smallish house in the semi-country, with a medium-sized chain-link fenced yard. Inside, there were six dogs in the living room: four in crates and two roaming free. The victim was a houndy-looking pup, lying in a crate, stitched and bandaged; it looked like the life she almost lost was still a crapshoot at this point.

A long and heartfelt conversation revealed a person that was holding down two jobs, trying to get back into school and driven by an internal need to save dogs in distress. As we talked, she explained the logistics of her situation. She repeatedly used the word "rescued" in her explanation of how all of these dogs came to her. "I rescued this one from the side of the highway, I rescued this one from a shelter in Howell, I rescued this one from a friend who found it as a stray," and so on. 

While she talked I surveyed the energy of the dogs and absorbed the reality of the moment. It was clear to me these were dogs struggling because their basic needs were (still) not being met on a daily basis. I could also see this compassionate individual was a "lifer" in the dog caretaker camp and I felt she needed to embrace a hard lesson, inherent in the world of canine advocates. I addressed her directly and said: "With all due respect, these dogs have not been rescued, not by a long shot. At least not yet." It was obvious she was overburdened.

"Rescuing" a dog requires much more than moving him out of a precarious environment. Most dogs in need of being rescued tend to come with some baggage, due to a previously unstable situation. If you don't have the time, space, or knowledge needed to help such a dog attain a balanced state, then taking one under your care won't serve well for the dog. Over the years I have seen many well-intentioned and compassionate people (including members/fosters of rescue programs) paint themselves into a corner by trying to care for dogs for whom they simply don't have the ability to provide.

The huge glut of dogs in need of stable homes complicates things for those of us who are concerned with their plight. Nonetheless, assuming the responsibility of caring for a dog, when you don't have the means to do so sufficiently, will most likely result in a setback for that dog.

My good friend and colleague Helen Depinto and I have had numerous discussions surrounding this topic. Helen is a behaviorist at Humane Society of Huron Valley and faces daily challenges working on the front lines of the pet adoption effort. Two things we agree on are that adequate time and effective management are the fundamental ingredients necessary to facilitate a successful placement. Far too many dogs end up being returned to shelters or rescue programs because one or both of these ingredients are lacking, resulting in failed placement at no fault of the dog.

Although there are many variables that merit consideration when deciding to bring a new dog into your home, the availability of time and the ability to maintain a safe management strategy are critical to success.

Management:Â 

Managing your dog's encounters is how you express your love for him or her. Let's face it, a dog doesn't know how to fit into your specific environment without a period of acclimation and guidance. Usually a newly placed dog has already been exposed to, and possibly confused by, a prior set of rules and circumstances that may have been very different than your own.

If you truly care about your new dog's success, you will introduce things gradually and devote the time it takes to observe and direct her explorations. Allowing this new family member too much freedom too quickly is setting him or her up for failure and could result in you developing resentment. Also, dogs (like kids) won't always show all of their colors right away and may surprise you with a curveball once they feel secure enough to challenge status quo. Take it slowly and don't feel bad about separating your new dog from other pets, kids and tempting no-no's when you're not monitoring.

Time:

I have determined (after many years of observation) that supplying a dog with her basic need for exercise and companionship requires a minimum commitment of 3 1/2 hours per day. For an average, healthy dog this breaks down to 1 1/2 hours physical exercise and two additional hours of interactive time.

Some of this time, especially the exercise, should be truly "dog time," but you can also fulfill a dog's needs just by being present and interactive as you would be with your human family. Dogs are family-oriented by nature and need you to be around in order to feel complete. Too many dogs are forced (because of schedule restraints) to be on hold for unacceptable durations of time, with no relational outlet.
Whether you have adopted a dog in need of a home, you foster, or you are involved in a shelter/rescue program, the issues of time and management
will
play into the long term success of any dogs you care for. Remember, these dogs don't just need homes, they need
good homes
. Don't overburden yourself to the detriment of your existing responsibilities, such as pets you already care for, or your family.
These dogs (who have already experienced some form of setback) need to be able to trust that they are on solid ground. Then we can say we have truly rescued them!
By the way, my client ended up finding quality homes for three of her "rescued" dogs and, due to the alleviated pressure, was able to devote more time and energy to her remaining three. They all thrived in this more balanced environment.