Along the Bridle Path
Pets:

Prevention is key to preserving property and animals when it comes to farm fire safety

Posted on Sat, Apr 21, 2012 : 11 a.m.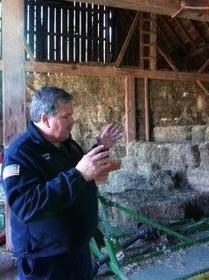 Kathy Lundberg | Contributor
Last week our neighbor's barn caught fire and burnt to the ground. Their horse, poultry, a young steer and many rabbits unfortunately perished. Firefighters were able to save the house, and prevent the spread of the fire to adjacent buildings and properties.
Horses in the neighboring fields raced with their tails straight up, calling out and clearly considering storming the gates to distance themselves from the wall of flame. The heat was palpable at that distance, with intermittent explosions punctuating the fire's roar.
We are greatly saddened by the loss of livestock and property but relieved that no people were injured and that damage was limited by the heroic work of the firefighters.
Here at Scio Church Stables, we also have old barns hewn from virgin forest of ancient oak trees, constructed with huge 12x12-inch beams. These barns have endured wind, rain, snow, ice and ravages of use over time. They have housed animals, hay, feed, equipment and the occasional barn dance for more than a century.
Built before electricity was harnessed, these old barns have seen generations of people, animals, wiring and fixtures come and go. Once an old barn is ruined, it is generally cost-prohibitive and nearly impossible to rebuild.
The shocking speed with which the fire enveloped and leveled the great structure impressed us with the fact that, that once started, a barn fire is extremely difficult to control. Prevention is key.
We invited the Chelsea Fire Department to inspect our farm, a service they are happy to provide. Fire Chief Jim Payeur and firefighters A.J. Ellwein and Scott Basar came a few days later to check things out.
Fire requires three elements: fuel, oxygen and an ignition source.
Fuel is found in abundance in old barns. The old wood, stored hay and feed, and yes, even the animals, are flammable. It is easy for stuff to build up in a barn — leftover parts of projects you may need later, things placed here or there for expedience at the time and forgotten, all covered by layers of dust and cobwebs. Keeping your barn uncluttered and fixtures clean helps prevent fires. Accelerants, or highly flammable materials such as gas and oil, should stored away from the barn.
Oxygen is in the air. Hay barns were actually built to "breathe." There is a little slit of space between each side board to moderate the moisture content of the hay. Barn doors and windows are often open to facilitate air exchange for animals as well.
Ignition is the component we hope to keep away from the other two fire requirements. A dropped cigarette or tiny electrical spark from faulty wires, devices or equipment can spell disaster.
Heating equipment is the number one cause of barn fires, according to the National Fire Prevention Association. Heat lamps — commonly used for young or small animals, sometimes powered by light guage, "daisy-chained" electrical cords — are common instigators. These devices should be used with great caution inside a barn, and only when in good repair, out of reach of animals, at least 30-36 inches away from anything combustible.
Heat or spark from equipment engines (especially gas engines which burn hotter than diesel) can start a fire. If this equipment must be stored in a barn, it should be allowed to cool after use outside of the barn and put away later. Payeur added that he has also seen the "misuse of heat," such as using torches in or near a barn, as an obvious culprit in some cases.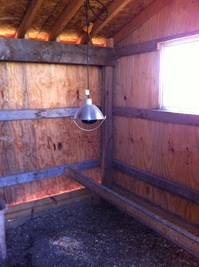 Kathy Lundberg | Contributor
Keep a fire extinguisher of adequate size near the doorway of your buildings, and know how to use it. Fire extinguishers can, however, provide a false sense of security, Payeur says.
The expellent gradually seeps out as seals deteriorate. The extinguishing agent inside settles and solidifies over time, preventing it from discharging properly. Extinguishers should be kept in good working condition by regular inspection by a service such as Spears Fire and Safety
Extinguishing a small, early barn fire may be possible. Otherwise, get out. Alert people, remove or simply free animals you safely can get to and call 911.
Whether there is time to rescue constrained animals is a grave decision only the person on the spot can make. Err on the side of preservation of human life, including your own.
The person first on the scene of the recent fire was anguished by the fact that he was too late to save the animals (except the dogs chained to the side of the house), as burning embers were falling from the barn's ceiling. He was further burdened by the memory of his own grandfather, who died rescuing animals from a burning barn.
Insurance is available for farms of all ages, based on structural quality and condition, according to Farm Bureau Agent Patrick Conklin. Farm Bureau Insurance insures the majority of farms in Michigan, according to Conklin. Safe electrical and wiring systems are of particular concern.
Take a close look at your own farm with an eye toward safety. Horse owners, keep in mind that horses' response to perceived danger is flight. Sometimes, however, they may be too frightened to leave or may want to return the imagined safety of their stalls.
University of California Davis has an excellent checklist of issues to consider regarding horses and fire. A more comprehensive reference on fire safety on farms — including evacuation, salvage and cleanup — is available through University of Wisconsin. Other excellent references are also available on line.
There are many potential fire hazards around a working farm. Even in the best of situations, unexpected problems can occur. Prevention is clearly key to fire safety.
Kathy Lundberg is the owner of Scio Church Stables in Ann Arbor.