More Than Four Walls
Pets:

Dogs find back-to-school schedules challenging, but with some preparation they can remain happy

Posted on Wed, Aug 22, 2012 : 6 a.m.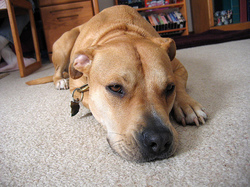 flickr photo by harshlight
For many dogs in the next couple of weeks, the big yellow bus will have taken their buddies away.
Back-to-school time isn't just a daunting time for kids and their parents but the four-legged members of the family, too. Think about it — there is nothing better in a dog's eyes than having his people around for vast amounts of time during the best part of the year, especially the youngest members of the family.
Kids and dogs just go together.
But when children go back to school, they have a lot to look forward to: activity-filled days with friends, sights, sounds, fun. Extracurricular activities fill up some of the time after the school day ends, too. Mom and Dad stay busy day in, day out.
What are dogs left with when all of this is going on? Not a whole lot, most often.
Consequently, the lack of stimulation, activity and attention can make for some very difficult days for these pooches and, in many cases, they act out in not-so-good ways. Separation anxiety is not uncommon and is more common in some breeds, typified by destructive behavior and barking.
Also, most dogs are raring to go run and play like crazy when everyone does finally does arrive home — and that can be difficult when the family is tired after a long day.
So how can humans help pets beat the back-to-school blues?
Be consistent. Keep your pooch on the schedule that he is used to: feeding, playtime, etc.
Burn off that energy! A fun morning walk can help start the day off right by giving dogs the exercise that they need, setting the stage for good behavior all day.
Keep them entertained! Use a stuffable, chewable toy that can keep them occupied while everyone is away. Kong toys are great, as are the AtomicTreat Balls from OurPets.
Make time for play at different times of day. Being spontaneous is a boon to canines. All dogs love attention, and doing the things that they like to do is essential. Even a quick game of fetch, chase or tug-of-war is beneficial. There is no substitute for your time where your dog is concerned.
Consider making time for a new hobby, like agility or tracking with your dog. Find something that they love doing that can continue through the school year.
Give your pooch more than four walls to look at all day. Having a dog walker come in can help break up the day, give him a little fun and exercise and something to look forward to — especially interaction.
I am a fan of using a crate as a way to keep puppies out of trouble when they cannot be supervised, and, in fact, both of my dogs like having the option of going to their "place" at their leisure and even to sleep in — unlocked. However, I never recommend that a dog be locked up in one all day.
Granted, some dogs have serious issues when their routine is upset, and when addressing profound cases of separation anxiety or behavioral issues, an animal behaviorist is essential. Click here to read here about how to find a qualified animal behaviorist.

How do you help your dog adjust to the new fall schedule? Offer your suggestions below.