More Than Four Walls
Pets:

Opportunities to help needy animals are abundant, as are reputable organizations

Posted on Thu, Jun 7, 2012 : 2 p.m.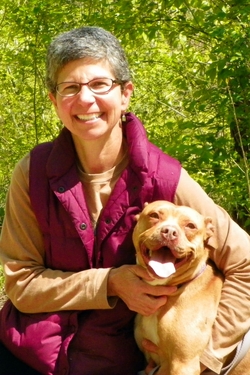 Photo by Norman Karp
In working with pets everyday, I'm hyper aware of most things pet-related — and the premise of each thing that I do is to create a better life for animals.
It's pretty evident that it's a philosophy that many others in the Ann Arbor area adhere to as well, judging from the amount of effort that's going on. From helping disadvantaged pets to assisting wild birds who are in need of medical care, there's plenty to do.
Another thing that I'm sure of is that so many others want to help, but they may not be sure of how.
That's understandable — with the number of rescues and animal nonprofits that have cropped up in recent years, it can be daunting to know how one can be of help. The time volunteers would need to devote can be unclear.
It's not uncommon to venture out of one's comfort zone, either, and that's something that two local women can attest to when it comes to their efforts to help animals.
"Trust me — I've gotten out of my comfort zone a lot," lilts Susan Karp, an energetic wife and mother.
Karp is no stranger to volunteering. She often helped out at her kid's school when they were young. But when her kid's got older, those needs changed. So, she decided a couple of years ago to shift her focus to helping animals — an area that she has excelled at.
She's always loved animals, and believes in being their voice.
Karp began volunteering at the Humane Society of Huron Valley and has helped out in many capacities, by starting out by doing laundry and cleaning kennels, to eventually assisting in the office, to filing in the clinic and even working hands-on with dogs.
As with many others who volunteer to help animals in need, Karp found that her view (and experience) had broadened further and looked for other ways to be of help.
Karp also got involved with an area rescue, Allforkarma Animal Rescue and has even transported a few of the organization's animals up to the Detroit area for veterinary care.
And, she learned about Continuing Helping Animals In Need & Educating Dog owners, or (C.H.A.I.N.E.D.), a unique nonprofit directed by three women — all community care health professionals. C.H.A.I.N.E.D. provides life enhancing supplies and services to canines that are chained or outside 24/7.
Karp — intrigued by the way that the organization not only actively helps animals but how they make a point to educate owners — got involved. She even assisted the group in installing a fence for one dog in the Detroit area.
"It was an amazing experience," says Karp.
Through her experience with C.H.A.I.N.E.D, Karp got to know another of the group's volunteers — Jennifer Hart, who also lives in the area — a little better.
Hart also volunteers at HSHV in many capacities — including in the Head Start Clicker Training program — and started out the same way. She, like Karp, felt drawn to do more about a year after she started giving her time at the facility, in February 2010.
"Growing up, we always had animals, and I carried on the tradition as an adult," says Hart, who has a handful of pets of her own as well as one that she fosters from Devoted Friends Animal Society, Inc., like 7-year-old Blanca, a bulldog/boxer mix.
"Blanca was in a very bad situation… pregnant, malnourished, heartworm positive and plagued by ear infections," Hart explains reflectively.
"But she's doing better. It's amazing what good nutrition, medical care and TLC can do."
Another dog, Petunia, was rescued as a result of the collective efforts of C.H.A.I.N.E.D. and was in an equally terrible situation.
"Petunia was in a hoarding situation in Detroit," explains Hart.
"She was found on the property of an elderly woman in January," who wanted to help the pit bull, but was obviously overwhelmed.
The woman willfully relinquished Petunia, and Hart has more or less taken responsibility for the pooch until a permanent home can be found. Petunia had been boarded at Dexter Animal Clinic since January, (as Hart has three pets of her own, plus Blanca) and Hart pays for her care, including the cost of boarding.
"She's a wonderful, sweet dog who is incredibly people-oriented — and she's been receptive to training, but she deserves her own family," offers Karp, who would come to the facility to take Petunia out for a long walk and give her a break from the kennel environment.
Just a few days ago, a family stepped up and offered to foster the pooch (who now has her own Facebook page) for just a short time.
"It would be great to see her get permanent family of her own — she's a bit timid at first, but she really warms up to you once she's had a chance to get to know you. It's not her fault that she was in the situation that she was found in," adds Hart.
Petunia and Blanca are like a lot of pets in need all around the area, and both women do what they can to be a part of the solution.
That being said, if one is interested in doing the same, it can be hard knowing where to begin.
So, what does it take to be a volunteer?
First, both women say, you just need to be passionate about the welfare of animals, and to be willing to commit your time.
"Although your time as a volunteer can be flexible, sticking to the time that you committed to is important. These organizations rely on — and value — your help," notes Karp.
And there are so many ways to help. But two crucial areas for most organizations are transport and fostering — two areas that Karp and Hart, who works full-time, know well.
As a volunteer with Open Arms Pound Rescue, based in Ohio, Hart also volunteers a few hours a month to transport dogs on one leg of the journey from Kentucky to Canada.
Quite often, getting animals from one point to another for needed veterinary care, or to adoption events and the like can be a challenge for these non-profits.
Fostering is a much-needed role that needs filling in almost any animal welfare group, including HSHV, which both women emphasize is impeccably run and well-organized.
"It's a way for an animal to get a break from life in a shelter, and it helps with socialization — and it assists in the dog or cat in getting better exposure to the public," says Karp, who just finished fostering a young dog because, she's happy to announce, he was adopted recently.
Many rescues do not have a facility, so to speak, and rely on foster volunteers to house and provide the day-to-day care and enrichment of the animals.
One interesting aspect of the movement to help needy animals is the number of groups that have been established. That raises a crucial point: Not all organizations are created equal. In the age of the Internet and social media, it can be easy to make things look good.
The seasoned volunteers offer a few suggestions when seeking an organization to help:
Investigate the organization as well as you can.
If you are familiar with either the individuals running the group, or those who are volunteering their time, in the latter case, what has their experience been?
If you can, interview an adopter to see what their experience was like in adopting their pet.
If it's a rescue, check out their adoption process. (Is it extensive? Do they require an application and home visit?)
Trust your gut instinct.
Karp and Hart agree on one point when it comes to helping disadvantaged animals: Even small efforts, like donating a few dollars or a bag of pet food, speaking up when you see an animal in need — all help make a big difference.