More Than Four Walls
Pets:

The case against sharing life with a pet: What's the fuss?

Posted on Mon, Aug 27, 2012 : 6 a.m.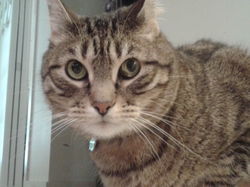 Lorrie Shaw | Contributor
A recent study was done on why people choose to not share life with a pet, some interesting things were revealed. People find it too expensive, they don't have the time and losing a pet is too painful.
The study is telling about not only our current social and financial climate, but about social mores that exist.
The concept of pet ownership in our society comes with its controversy.
Sure, there are, by some estimates, more than 115 million households in the United States, and about 46 million of those have pets. There's a fair percentage that are pet-less. And that's okay by me. But for some, it's troublesome.
In my earlier piece about pet wars, I highlighted the issue of how a 'mommy wars' mentality has infiltrated our society. For many, it seems the focus is going all out and getting the next biggest thing in the pet product world, or feeding the right kind of food, or a little too enthusiastically getting their dog involved in as many canine playgroup and play dates as possible, or having unrealistic expectations of dogs when it comes to behavior — rather than just stepping back and just for one minute remembering that these living, breathing beings are not little humans… but animals. I know, shocking.
One thing that I find interesting is that there's another facet to the mind of someone immersed in their own internal pet war: they find the concept that there are actually households out there who do not have pets to be puzzling.
I've heard, "I can't understand them — they don't like pets" or "I just can't believe that so-and-so won't get another dog. That's so selfish, and there are so many homeless pets out there. They have a house, a yard — and the means to do so!" or "What's wrong with them? Every family with kids should have a pet!"
Oh, the judgment and misconceptions. They certainly aren't true all of the time, and they aren't fair. And, even if someone doesn't like pets, that doesn't make him or her a bad person. Those people are just different, just like everyone else.
In truth, there are a lot of unspoken reasons for having a household without pets.
The aforementioned study, which included households currently without a pet, noted that three of the top reasons for not owning a pet are because the cost associated with having a pet is just too much, there isn't enough time to care for a companion animal and the grief associated with the loss of a pet has been too much to handle in the past.
Those reasons sound pretty realistic to me!
Let's face it. With our present financial climate, it's tough for some families to afford veterinary care and food. If someone admits that they can't afford that and decides to not have a pet, I applaud them. It is expensive on a good year. No one can doubt that.
Losing a pet is difficult for some, traumatic for others. Seeing that pets are with us far less time than most of our fellow humans, knowing that the inevitable will arrive is tough. And, our society isn't especially forgiving if you're wading through the stream of grief because of the loss of a pet. It rarely stops for other kinds of grief.
I think that the choice to remain without pets helps save animals; it's mindfulness in action. When those people who don't have the time or money or will to care for a pet don't become pet owners, the situations that are most often cited for relinquishment are avoided.
So, before you judge someone on their no-pet stance, remember — there are often very mindful reasons behind it.
The study, Keeping Pets in Homes, was done in an effort to help examine the ways why families choose to be without pets, and it's the hope of the American Humane Association and PetSmart Charities (the latter funded the study) that this is the first step toward developing effective strategies to reduce the number of homeless dogs and cats. Click here to read about the ongoing study.