More Than Four Walls
Pets:

Bil Jac issues a 'limited product withdrawal' on one formula of dog food

Posted on Sat, Aug 25, 2012 : 4:40 a.m.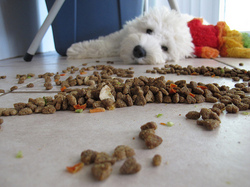 flickr photo by BuzzFarmers
Every pet owner wants to keep his or her companion animals healthy and safe, and keeping up to date on the latest pet food recalls is a big part of that.
One prominent company, Bil-Jac, a company that began specializing in frozen pet foods over 60 years ago, recently issued a "limited product recall" that affects one line of their dry pet foods.
The company has asked some retailers to pull one formula, their Adult Select Formula Dog Food, from their shelves as a precaution.
Only 6-pound bags are included in the recall.
According to the company's website, a small batch — 1792-02 with an expiration of Dec 27, 2013 — is included.
Mold is named as the culprit in the withdrawal. Bil-Jac did not indicate what type of mold, but in past recalls that involving other companies, aflatoxin, a naturally-occurring fungus, has been a cause. In the present recall, the culprit is a higher moisture content in the food.
No other information about returns or refunds has been made available at this time.
Click here to read the company's statement regarding the issue.
You can count on AnnArbor.com to offer up-to-date information on pet product related recalls. Search our archives of previous recalls here.