More Than Four Walls
Pets:

Have the 'Mommy Wars' morphed into 'Pet Wars'?

Posted on Mon, Aug 20, 2012 : 1 p.m.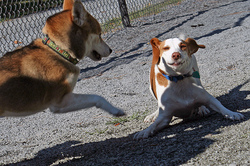 flickr photo by IntangibleArts
Having been in the pet business for so long — and having shared life with pets for and even longer time, I've seen plenty of changes in our culture regarding having pets.
A lot of it, I think, has gone in the right direction. With so much more solid knowledge about behavior and health, we can make better choices and enable ourselves to create a better life for animals, a goal that I strive for consistently.
On the other hand, I see a trend that is all-too-common in our society these days, especially: "pet wars."
It might not seem very overt at first, and I'm guessing that being as immersed in the pet world as I am, I see a ton of it.
I ran across an article on the Catonsville Patch website on the topic that resonated with me.
Pet wars are gaining momentum and have some semblance to the "mommy wars" that we've all been witness to. It's everywhere, and I've seen that social media has enabled it greatly.
Greg Ealick, Adjunct Faculty at University of Maryland, Baltimore County notes in the article, "I think nurturing in general is getting a lot more divisive. The increasing hostility we see in pet rearing is an echo of the increasing hostility in child rearing."
Perhaps you've seen it or even experienced it. In the latter case, I have, and I find it disturbing.
One of the first questions that I hear someone pose to a new pet owner is, "Did you adopt them from a rescue?"
(Can you feel the eyes of silent judgment cast themselves upon you?)
Our pets are well into their senior years, and when they first came to be in our lives, these questions never came up. But now, it's the first thing that I hear most often and it makes me cringe for a lot of reasons.
In truth, all of our pets were "rescued" in one way or another, but these days, it seems like it's some sort of popularity contest, to "adopt" a "rescue." And if you decide to acquire a pet from the wrong rescue — or a reputable breeder — there will be hell to pay.
(To set the record straight, I do think that rescues are amazing and necessary, and I support reputable ones fully. I'm also totally against buying a pet from a pet store and think that puppy mills need to be abolished.)
And, let's not forget about activities. How many of you have been questioned about what activities your dogs are involved in?
"Is your dog in agility?"
(For goodness sake, some dogs are not good in situations like that.)
Have you ever been grilled about the kind of food that you feed your pets? "Oh, you don't feed [insert your brand here]? Oh, if you only knew…"
(Really?)
All of those things have been said to me. Luckily I know my pets better than anyone and won't let anyone undermine the way that I care for them. But I know that a lot of other people sharing life with pets struggle with these statements and questions.
I've witnessed the jabs that are thrown from rescue to rescue and organization to organization, as well as the comments from the supporters of each.
What is your experience with the phenomenon of "pet wars?"
Read the referenced article by clicking here.