pets:

Meet the AnnArbor.com pet of the week: Nina, a very affectionate lap cat

Posted on Tue, Aug 21, 2012 : 10:20 a.m.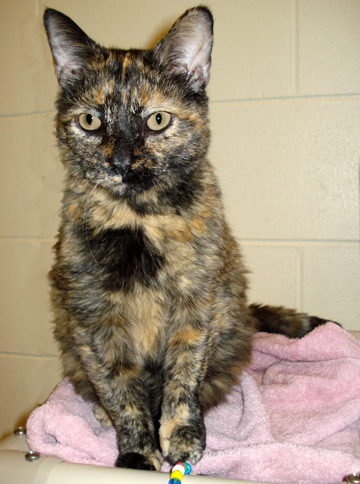 Nina was brought to the Humane Society of Huron Valley back in February as a stray. As much as she seeks out a warm lap and begs for attention, it's very hard for us to believe that she did not have a caring home at one time. That knowledge makes it even harder for us to watch this 8-year-old tortiseshell kitty sit unadopted for so long.
We can tell you that Nina is playful, talkative and very affectionate. In fact, during a small break in an HSHV foster home, Nina flourished and settled in very quickly. She did not think twice about jumping on a lap and settling right in for pets and purrs. Her foster mom told us that Nina was a delight to be around.
Her chatty meows, funny little strut and bouncy personality made her foster family smile everyday. Just imagine what happiness she could bring to your life!
Nina tolerates the canine species as long as they don't chase after her, and we also think that she could be fine with a laidback cat if they were given the proper introduction. Nina likes a home that is quiet and where she can find her way into a lap without a lot of commotion. We really can't say enough wonderful things about this adult cat. Nina will be forever grateful if you would take her home and make her your new forever companion.
HSHV is open daily at 11a.m. for adoptions. Please stop by and visit Nina.
All pets available for adoption are spayed/neutered, up-to-date on their vaccinations, medically and behaviorally evaluated, and they have a microchip ID all included in their low adoption fee. Please make adoption your first option.
The Humane Society of Huron Valley, located in Ann Arbor, was awarded the "Best Large Animal Shelter in Michigan" by the Michigan Pet Fund Alliance, for the second time in a row this year, for saving the most lives. HSHV is an independent 501(c)(3) nonprofit organization and relies solely on donations from businesses and individuals to support our community programs.
HSHV is not affiliated with the Michigan Humane Society or any other humane organization. The mission of HSHV is to promote responsible and compassionate care of all animals in our community.