pets:

Meet the AnnArbor.com pet of the week: Paisley, a young dog who loves other dogs and children

Posted on Tue, Aug 14, 2012 : 6 a.m.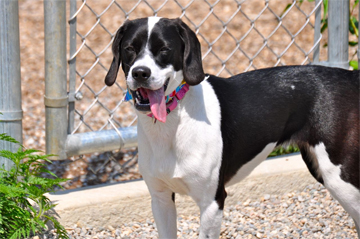 This 11-month-old beagle/hound mix named Paisley is in search of a family that can give her love, consistency, exercise and care. She would also like a home with some land so she can romp around and explore.
Paisley was adopted in May after coming into the Humane Society of Huron Valley as a stray but was returned because that family lived close to their neighbors who weren't happy to have Paisley visit them. You see, Paisley can jump small fences and can't be left alone unsupervised in her yard. She never runs away, and she always comes back, but the beagle part of her can't help but follow her nose.
Paisley really likes children and other dogs and, in fact, is most happy when she has a canine friend to hang around with. Because she's been bounced around a bit in her short life she has some mild anxiety, but with the proper training and a consistent schedule, we think she will be a wonderful companion. She loves to play fetch and she has a very sweet and silly little smile, too.
Can you bring some joy into the life of a young dog who has been searching for a family to love? HSHV is open daily at 11a.m. for adoptions. Please stop by and visit Paisley.
All pets available for adoption are spayed/neutered, up-to-date on their vaccinations, medically and behaviorally evaluated, and they have a microchip ID all included in their low adoption fee. Please make adoption your first option.
The Humane Society of Huron Valley, located in Ann Arbor, was awarded the "Best Large Animal Shelter in Michigan" by the Michigan Pet Fund Alliance, for the second time in a row this year, for saving the most lives. HSHV is an independent 501(c)(3) nonprofit organization and relies solely on donations from businesses and individuals to support our community programs.
HSHV is not affiliated with the Michigan Humane Society or any other humane organization. The mission of HSHV is to promote responsible and compassionate care of all animals in our community.