Pets:

Meet the Ann Arbor.com Adoptable Pet of the Week: Steffi Graf - a friendly, outgoing and well-socialized kitten

Posted on Tue, Jul 24, 2012 : 12:15 p.m.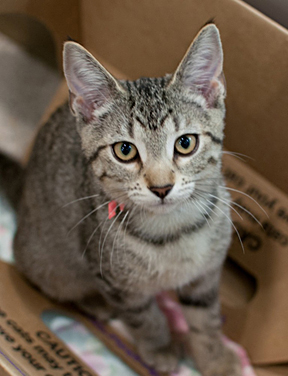 Photo by Mark Quint
Steffi Graf and her siblings were born at the Humane Society of Huron Valley after their momma came into the shelter as a stray. They remained in a wonderful foster home until they became big enough to be spayed and neutered.
Steffi, now 4 months old, has been waiting for a family to adopt her for more than two months now. She is super cute, friendly, outgoing, and seems to be happy all the time. She's also gentle about her play and really loves being with other kittens, especially her littermates Arturo and Marley! Currently when you adopt one kitten at HSHV you get a second kitten free. Steffi would love to have a home with one of her siblings.
If you're looking for a kitten who's past the wild part of her kittendom, then this lovely lady could be perfect for you. She would be very grateful to grow-up in a caring home and not spend anymore of her life in a shelter environment.
All pets available for adoption are spayed/neutered, up-to-date on their vaccinations, medically and behaviorally evaluated, and they have a microchip ID all included in their low adoption fee. HSHV is open seven days a week for adoption. Check our website for adoption hours.
The Humane Society of Huron Valley, located in Ann Arbor, was awarded the "Best Large Animal Shelter in Michigan" by the Michigan Pet Fund Alliance, for the second time in a row this year, for saving the most lives. HSHV is an independent 501(c)(3) nonprofit organization and relies solely on donations from businesses and individuals to support our community programs.
HSHV is not affiliated with the Michigan Humane Society or any other humane organization. The mission of HSHV is to promote responsible and compassionate care of all animals in our community.