Along the Bridle Path
Pets:

Haflinger horses are an old breed originating in the Tyrolean Alps

Posted on Wed, Aug 3, 2011 : 6 a.m.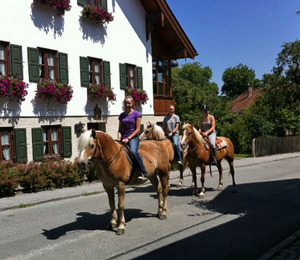 Kathy Lundberg | Contributor
The Haflinger is a versatile breed developed in the Alps as an all-around horse for work under harness and saddle. Its roots go back to the Middle Ages, but all modern Haflingers trace back to one foundation sire: 241 Folie, foaled in 1874.
The Haflinger's calm, gentle nature, sturdy build, excellent endurance, and ability to thrive on little food suit it well for life in the mountains. This week the Bridle Path takes us to an ancestral farm at the foot of the German Alps, home to three fortunate Haflingers.
Bernried is a small, ancient town of 2,200 residents located on the Starnberger See (Lake) south of Munich. Bernried was first recognized as a town 1200 AD, but Roman coins found at the site of its old castle date from the fourth century. People have lived and farmed here for a very long time. Many of the original houses still standing in town were built in the 12th century.
The village layout reflects the realities of another era: houses arranged radially around the center for protection, communication and consolidation of resources. About one third of the large rectangular building was built for human habitation, with two to three floors of living space. The remainder of the building served as the barn, with a hay loft and animal stalls. The house and barn areas are separated by stone firewalls with heavy metal doors.
Animal paddocks extended outward from the barn portion of the building. With population growth and the appreciation of land in town, many of the original house/barn buildings have been converted into human living quarters.
Each of the original Bernried houses has rights to a community forest for wood to heat the home and a community meadow on which to graze animals, located on the outskirts of town. According to German law, if you do not use your forest for harvesting wood or your field for grazing animals, someone else can do so.
We had the special opportunity to visit the last remaining in-town farm of Josef Steigenberger, Mayor of Bernried, and his wife, Maria. The Steigenbergers raise cattle and chickens, and keep three Haflingers in their back yard.
During the day, the cattle and horses go out to graze green fields overlooking the beautiful Starnberger See, shaded by tall, ancient trees. The chickens nosily wander out into the flower-lined streets, roosting in their cozy coop beneath the pear and apple trees at night.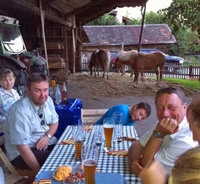 Kathy Lundberg | Contributor
Mayor Steigenberger is an avid carriage driver and competes with his Haflingers in international competition and in competitions periodically held in Bernried. The geldings are hitched as a pair to one of two exquisitely refurbished and maintained carriages, each several hundred years old.
Haflingers are also excellent riding mounts. Although they are not tall, their compact, muscular build allows them to comfortably carry a grown man, with gear, or pull a considerable load, even over rough ground and steep grade.
They were used during World Wars I and II mainly to carry gear. Also during World Wars I and II, various horse breeds were mixed with Haflingers, producing a small stout war horse. After the wars, a concerted effort was made to refine the breed to the sporty leisure horse that it is today.
According to the breed standard, Haflingers stand 13.2 to 14.3 hands high (1 hand = 4 inches). Any shade of chestnut is acceptable, from very blonde to liver chestnut. Some dappling is permitted. The mane should be white or flaxen. The Haflinger's stride should be long, elastic and rhythmic.
Haflingers can now be found on all continents. There are more than 10,000 Haflingers in North America. They are used in driving, dressage, jumping, and trail. Their popularity is a testament to their friendly nature, athleticism and versatility.
Kathy Lundberg is owner of Scio Church Stables and welcomes your contact via e-mail.